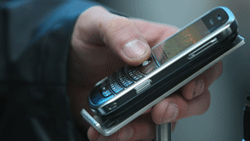 My kids only use the computer to check for Red Sox scores. And even then, in the morning they'd much rather read the newspaper. (A shred of hope for the good old dead-tree version of the regional news that Michael Sokolove mourned this weekend in the NYT .) So in our house, Nina, I'm the early-morning online offender . A year or two ago, I could never remember to charge my cell phone. Now I often turn on my BlackBerry before the kids leave for school. And yes, I do think offense is the right word for this, because it takes me out of my family's present, making me answer with a long "ummmm" questions about where a stray hat or library book is.
But here's the thing: I turn my BlackBerry on early, and check it at night, because my e-mail account is such a hodgepodge of the personal and professional. It's how I communicate with my colleagues, yes, but before 8:30 a.m., I check it to make sure our carpool is running smoothly or my kids' babysitter knows what time soccer practice starts after school. Texting is a lot less intrusive than the phone, especially during those hours on either end of the day when I'm not ready to talk to anyone I'm not related to. So I stick to it, as do most of the other moms I do daily kid-management business with. This, of course, is the eternal conundrum of our plugged-in world: Are we better off for our new-fangled devices, or do they just generate more and more messages? If we weren't online, we'd have less fluid arrangements. But we'd also do less arranging. Time-wise, it's either a wash or a loss, I think.
Photograph of a BlackBerry by Sean Gallup/Getty Images.
---