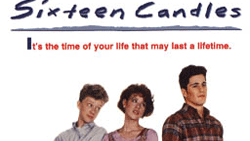 John Hughes, the writer and director behind such era-defining comedies as
" target="_blank"> Ferris Bueller's Day Off ,
" target="_blank"> Sixteen Candles , and
" target="_blank"> Pretty in Pink , died today of a heart attack. Yes, he gave us Long Duk Dong , but he also gave us Duckie , and for that, almost all can be forgiven.

In honor of the man, tell us your favorite Hughes moments. Was it Ally Sheedy and her dandruff art? Molly Ringwald making that iconic pink prom dress? How about Cameron (Alan Ruck) pushing his dad's Ferrari through the glass garage wall? Share your memories in the comment thread.
Publicity shot of Sixteen Candles movie poster courtesy of Channel Productions.
---