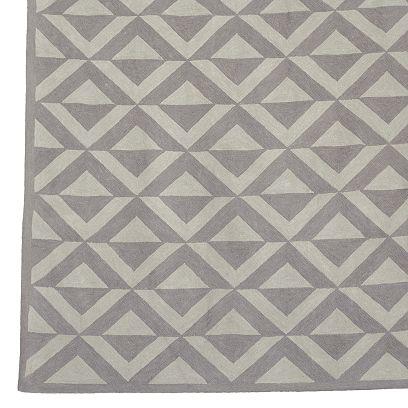 With all the smarty sisters here on Double X , I have to remind myself that every post in the Dream House doesn't have to attempt "think piece" status. (Regardless, I'm always thinkin' about a piece, if you know what I mean . Ba-dah-bum!) So today, let's just look at some purty area rugs, shall we?
My pal Sarah over at Matters of Style (who applied my Big Red advice with great results) asked if I knew of a budget option for a simple navy and ivory diamond trellis rug she'd seen in a mag. Oh, sure, I thought. Googling ensued … bupkes. Muddy-colored floral trellis loops and piles by the thousands, but no simple woven harlequin. I refuse to believe that anyone actually buys this tripe. (Let me. Please.) In my search I did find some encouragingly stylish options, so until the rug revolution comes, here are my picks for staying frugal and fabulous underfoot:
Williams-Sonoma Home Geometric Crewel Rug , $295-$1,350 (pictured). My priciest and favorite option: Buying one is easier than painting this exact pattern on your wood floor (though how chic would that be??). Hard to tell, but each little section is made up of tiny embroidered stitches known as crewelwork. Now there's truth in advertising.
Ikea PS Tuga , $299 for a 9'x9'. I love the wonky, homespun look of this hand-woven wool rug's design. Blue and cream is a classic color combo, and also a boutique I don't fully understand.
Pottery Barn Patchwork Jute Rug , $119-$699. PB's rug is paler in color and slightly more refined than this cheaper Pearl River version , but the coarse patchwork jute is a favorite of fancy decorators like Jeffrey Bilhuber . (His clients include Anna Wintour and David Bowie: Would YOU argue with the man?)
Speaking of my fave natural fiber, this Velay Rug from Ballard Designs ($29-$299) has a pleasing variegated stripe. Like a bag from the sadly defunct Joseph rendered in jute!
Finally, for indoor/outdoor use I still can't beat the cheeriness of KokoTrends' polyurethane woven mats . This Dash & Albert denim rug ($34-$495) is slightly more traditional but still hoseable, scrubbable, and bleachable. Feel free to make your own joke on that one.
---