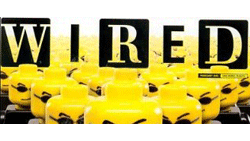 Did Nancy Drew wear a hat? Well, put on something that makes you feel sleuth-y: Wired magazine reporter Evan Ratliff is on the lam-and Wired is offering $5000 for anyone who can find him.

The contest accompanies Ratliff's piece in the magazine's September issue about Matthew Alan Sheppard , an Arkansas man who tried to fake his own death. In the article, Ratliff notes that our always-on, always-connected lives makes it much harder to truly disappear. "It's almost easier to steal an identity today than to shed your own," he writes. (Authorities sensed something fishy with the Sheppard case when they noted that his BlackBerry had been used-after he supposedly drowned.)
So as an experiment, Ratliff is going to spend the next month trying to see if he can stay hidden from the world. His family and friends don't know where he is. He'll still be using Twitter and Facebook and making cell phone calls, though. Will he be canny enough to avoid being caught? If you find him, say the magic code word, and snap a photo so his editor can confirm his identity, you win the cash prize. Stay updated on the search for Ratliff
here
.
Seems like
Wired
is upping the ante on its recent
secret-code-and-riddle-packed "Mystery" issue
. The
ARG
-loving geek in me is ridiculously excited about the game as a game; the media nerd in me is intrigued by the use of creative, real-life events as a way of extending a publication's brand.
---