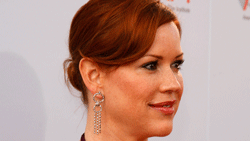 Molly Ringwald's heartfelt farewell to John Hughes in the New York Times today makes a good companion piece to the blog post " Sincerely, John Hughes " that we wrote about last week . Whereas Alison Byrne Fields was a teenager who loved Hughes from afar, Ringwald was a teenager who loved him up close.
Unsurprisingly, given their intimacy, Ringwald's memories have a darker, more nuanced cast than Fields'. She describes Hughes, the director who "catapulted [her] from obscurity and planted [her] in the American consciousness," as a kind of Peter Pan who refused to grow up-and who resented her when she decided to. Ringwald hadn't spoken to Hughes for more than 20 years when he died; their relationship soured when she decided to work with other directors. "I wanted to grow up," she writes, "something I felt (rightly or wrongly) I couldn't do while working with John."
Luckily, the two had a moment of reconciliation (thanks to François Truffaut, natch), though I can't help but be saddened by the thought that the two didn't stay friends. (She did, however, stay close with Anthony Michael Hall, which is a big relief.)
The whole thing is worth reading, but here's a taste:
Most everyone knows that John retreated from Hollywood and became a sort of J.D. Salinger for Generation X. But really, sometime before then, he had retreated from us and from the kinds of movies that he had made with us. I still believe that the Hughes films of which both [Anthony Michael Hall] and I were a part (specifically "Sixteen Candles" and "The Breakfast Club") were the most deeply personal expressions of John's. In retrospect, I feel that we were sort of avatars for him, acting out the different parts of his life-improving upon it, perhaps. In those movies, he always got the last word. He always got the girl.
None of the films that he made subsequently had the same kind of personal feeling to me. They were funny, yes, wildly successful, to be sure, but I recognized very little of the John I knew in them, of his youthful, urgent, unmistakable vulnerability. It was like his heart had closed, or at least was no longer open for public view. A darker spin can be gleaned from the words John put into the mouth of Allison in "The Breakfast Club": "When you grow up … your heart dies."
Photograph of Molly Ringwald by Frazer Harrison/Getty Images for AFI.
---