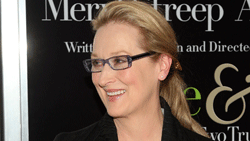 Last year when the poorly-reviewed Mamma Mia! was a mega-hit, some speculated that it was because the protagonists were women over 40, and that the female audience of a certain age was desperate to see someone born before Woodstock find love. This summer's Meryl Streep vehicle, Julie and Julia , is probably hoping to capture that same group of women.
In the movie, which is out this weekend, Streep plays TV chef Julia Child. Of Child's "acutely libidinous" marriage, Streep told the New York Times , "I don't know why everybody is so surprised … I guess people don't attach sexuality to people who look like their parents." But the people who are their parents will probably be pretty excited to see their relationships getting some silver screen time for once.
Photograph of Meryl Streep promoting Julie and Julia by Stephen Lovekin/Getty Images.
---