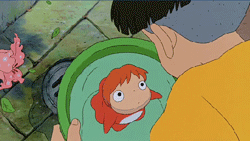 Deep in the hottest, doggiest days of summer, Disney is bringing audiences a refreshing treat: Ponyo , the latest film from legendary Japanese animator Hayao Miyazaki.
Ponyo
is the story of a spunky little goldfish who falls in love with a human boy and, after getting her fins on some of her father's magic elixir, turns herself into a little girl. Little does she know, that act is about to throw the entire natural world out of whack … (
Watch the trailer here
.)
In its relative simplicity, and with its very young protagonists,
Ponyo
reminds me more of Miyazaki's
My Neighbor Totoro -
one of my favorite movies of all time, kids' or otherwise-than his more recent fare, like
Princess Mononoke
or
Spirited Away
. But that doesn't make it any less appealing for adults: At the recent screening I went to, both kids and grown-ups were beaming as they left the theater. And as far as Disney princesses go-Ponyo is the daughter of a wizard and the goddess of the sea, so whatever, she totally counts-Ponyo's generosity, fearlessness, and awesome powers put her in a class of her own. Just try not to be thrilled as Ponyo, exhilarated by her new legs and feet, scampers over fat, cresting tidal waves to reach her beloved Sosuke, pumping her little arms and shouting with laughter the whole way.

Bonus! Tina Fey provides the voice of the boy's mother, and she's pretty fantastic.

Ponyo opens on Friday.
Image courtesy of Walt Disney Pictures.
---