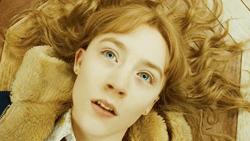 Alice Sebold's juggernaut bestseller The Lovely Bones is getting a big-screen adaptation courtesy of Peter Jackson, who directed the even more massive Lord of the Rings trilogy. The film-about the spirit (ghost? soul?) of a young girl who watches her family try to solve the mystery of her murder-doesn't come out until December, but the trailer has just been released . It looks fantastical, creepy, and awesome. Based on the trailers alone, I'm much more excited for this than I am for the year's other big softly-sci-fi screen adaptation, The Time Traveler's Wife . (Plus I can't get enough of that Saoirse Ronan , who played the little linchpin in Atonement .)

I missed the original Lovely Bones craze-as I somehow manage to do with every big book universally declared to be awesome-but seeing the trailer makes me want to just wait for the movie, so I can be totally surprised. Good idea? Bad idea? What did you all think of the novel-and does this trailer meet your expectations?
Still from The Lovely Bones trailer courtesy of DreamWorks Pictures.
---