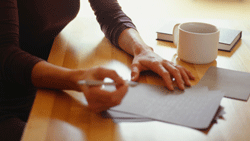 Amidst the flood of John Hughes remembrances swirling about the Internet this morning-read Dana Stevens' excellent obituary for Slate here -one is generating more smiles and sighs than others. In " Sincerely, John Hughes ," Alison Byrne Fields recounts the two years she spent corresponding with the writer-director after she saw
The Breakfast Club and poured her heart out to him in a letter . (Hughes' people initially responded with a form letter and some TBC stickers; Alison got irate and badgered him into writing her a real letter. Gotta love that teen girl moxie.)
Hughes wrote Alison long letters from the set; encouraged her to keep writing, even when her English teacher wouldn't; and sent her a box of
Ferris Bueller schwag as an apology for having skipped several months of correspondence. (Alison had written to his boss at Paramount when she hadn't heard from him-again, there's that moxie. When do we lose that, do you think?) The whole thing is incredibly moving, and well worth a read. I can't help but be happy to know that John Hughes, who created some of Hollywood's most memorable teen icons, cared about real teenagers, too.
(Side note: John Richards, the DJ who hosts KEXP in New York's morning's show , is currently spinning '80s classics in Hughes' honor; we just heard "Girls on Film" and are now being serenaded by the sweet sounds of Bow Wow Wow. Listen at 91.5 FM in New York or online.)
Photograph by Getty Images.
---