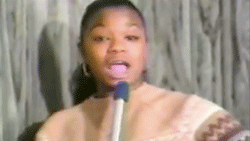 Nina, like you, I love a good revenge story, especially one as empowering as MC Roxanne Shanté's story . I was struck not by her awkwardness in the video (I actually thought she was pretty poised for a 14 year old), but by how innocent and unsophisticated hip hop videos seemed back then. I mean, she was fully clothed and in an argyle sweater, no less. Her pants look to be either velvet or leather, but tasteful. There was no skin showing. No provocative rump-shaking. No cursing or bragging about her sexual prowess. That video would have little trouble earning a Good Housekeeping seal of approval. It was like the anti Lil' Kim, whose videos and images speak for themselves .
The music industry is littered with one hit wonders like The Real Roxanne, young hip-hop artists who got shafted in complicated record deals that solely benefit the record companies. Never mind clauses promising to pay for college (who woulda thunk?), many of the artists "lucky" enough to even get signed by record companies see pennies in profits, not the millions they routinely brag about in their rap songs.
The idea to put an education clause in Roxanne's record contract was brilliant. I wonder if a smart and caring representative, a relative, or an agent requested it, or if the record company just threw it in as a bone. If the person behind it was simply looking out for her long-term interests, they deserve big props. (Maybe Roxanne can repay them with a few free counseling sessions.)
It would be really poetic if that representative was a woman like Marguerita Grecco, the dean at Marymount Manhattan College, who helped force Warner Music to pay for Roxanne's education and in the process put her on a life path that most people don't expect of a single, teenage mother from the projects. A doctorate degree in psychology from Cornell University? (Can she get a whoop, whoop?)
I loved Roxanne's quote in The Daily News story: "I told Dean Grecco that either I'm going to go here or go to the streets, so I need your help."
Grecco's response? " 'We're going to make them pay for this.' "
And pay they did.
Image is a screenshot from MC Roxanne Shanté's music video.
---