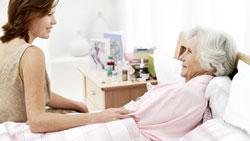 It's a truth, universally acknowledged by our elders who know better, that all the planning in the world will not give you the life you end up living. Life has a way of tripping you up as you go about your day. How many times have you planned something, only to have the unforeseen derail you?
I've been wondering about this recently as we discuss the state of our health care system, and by extension the state of our health. So often it is ill health that delivers an unexpected blow and forces us to change our plans. Serious or chronic illnesses do more than force us to cancel a holiday or scramble for childcare. They can alter the very paths of our lives.
This theme has been making itself felt in the e-mails from readers I've been receiving over the last couple of weeks. You'll see some of the responses this week. Cat Baab wrote in response to a question about how marriage has changed her. When you read her post, below, you'll see that it wasn't just her marriage that forced the change.
If you've had your life turned upside down by an unexpected health issue and you want to share your experience, write to me at emma@thecomebackbook.com . You, or someone close to you, might have been ill, might have had an accident, might even have had a false diagnosis. Tell me your story and I'll put it up here.
If, on a February evening, you happen to run into your old high school boyfriend (whom you haven't seen in the eight years since you broke up) at the T.G.I. Friday's in your hometown, at a time when you have just moved back from Singapore and are about to go to Chile, your engagement two days later will involve a lot of hysterical laughter. Or so it happened with me.

I'd never expected to see Chris again-at least, not if I could avoid it. Our high school break-up had been terrible. I wanted nothing to do with him or with Short Pump, Va. The winter of 2006, I was sleeping in my old bedroom in my parents' house there; it was, I thought, a temporary arrangement. My bags were still packed, ready. I was 24 years old. I'd returned from one overseas adventure and was anxious for the new one to begin.

But what I got was an entirely different adventure. Chris called me two nights after that run-in. We met for a drink. Afterward, he showed me the house he'd recently bought and moved into-a one-story place with two large, empty bedrooms at one end and a large, empty sunroom at the other end. The tour done, he asked, "What do you think?"

I said, "I think we should get married."

He said he thought so, too. We kissed: the happy (I've found you), the sad (I've missed you), the at-last, blissed-out kiss. We drank more drinks and planned how we would get married right away, move to Chile together. It'd be a ball, a total lark. My mother called to see how my evening with my old friend was going. Laughing, we told her the news.

The next morning I woke in my old bedroom. The first thought that occurred to me was that prehaps Chris had changed his mind. It terrified me, but I could understand. So I sent him a text to let him know how things stood with me. I wrote, "I still love you this morning."

A few seconds later, he responded, "I still love you every morning."

My parents and I drew up the guest list over breakfast.

Then, a few weeks before the wedding, his mother suddenly became ill. She had always been healthy-she was 59 years old, at the top of her career-but now she was in the hospital. The diagnosis was terminal cancer, and we were told to expect her death. It was shattering news. Still, we kept going with our plans; to stop seemed to mean we accepted that she would die.

We visited her in the cancer unit just before the ceremony. Our wedding video shows her getting out of the bed, shaky on her feet, hospital bracelets round her wrists, to embrace us. Chris hugs her, his stepfather hugs her, they cry with her. I pause for a moment outside the circle, my back to the camera.

I am a long way from Santiago, and I won't be getting there any time soon. Our married life is going to be different from the one we'd planned, and this is the moment I allow myself before the change is complete. Few brides' experience, I think, must be so literal. But there it is, in grainy video: I step forward to support my husband, to join his family, in the most painful circumstances. I put my arms around them. I grow up.

An endnote: We celebrated our third wedding anniversary this past June. We haven't moved to Chile yet, but we did spend last year in New Zealand, where I was in graduate school and Chris worked the front desk at The New Zealand Herald . His mother, thank goodness, is in remission after receiving a stem cell transplant. Right now, she and her husband are on a month-long cruise around Alaska. We rent out the house. We have a very close, loving marriage. I still have the habit of referring to him by his first and last name, like he's someone I used to know and who must be distinguished by last name.
Photograph of sick woman by Stockbyte/Getty Images.
---