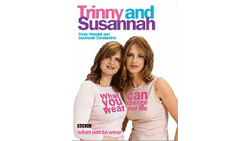 I wasn't as dismayed by the new Project Runway as Hanna and Jessica , but that might be because my reality TV excitement (and addiction) lies elsewhere. The original Brit version of What Not To Wear has always far outclassed the lame TLC* version-and now Trinny and Susannah are heading stateside, with a series on the same network starting tonight. For all their groping and grabbing and relentless assessment of their victims' bodies (and their own), Trinny and Susannah have-as we put it in Xxtra Small -heart.
Granted, Trinny and Susannah are utterly ruthless when they evaluate their subject. The "Can she (or occasionally he) take it?" question is paramount in every episode. You'll need to minimize that bum, they declare. Your tits are way too big for that bra! And they accompany every comment with the kind of grabbing most women associate with a really bad date
But unlike TLC's Stacy London and Clinton Kelly, Trinny and Susannah are never unkind. I've seen Stacy and Clinton actually dump a person into the trash can along with her wardrobe. Where Stacy might say "You're very short," Trinny and Susannah would say,"Because you're so tiny, you'll want to avoid those long dresses," and I imagine that to the person in the dreaded four-way-mirror, there's a world of difference. It's pretty easy to avoid long dresses. It's impossible to fix being short. And being thrown into the trash on national television? I thought we were supposed to be watching someone's life get better. Trinny and Susannah host What Not to Wear ; TLC's version could better be called Who Not To Be .
*August 21, 2009: The original version of this post said that What Not to Wear is on Lifetime. It is on TLC.
---