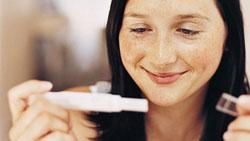 "Kat," a single physical trainer from New York, has long wanted to be a mother. Now in her early 40s, she is currently undergoing intrauterine insemination (IUI). She has agreed to share her experience with us, although she would like to keep her identity private. In her first installment she descrbed her decision to try to get pregnant this way. In the second part she told how she picked the sperm donor . In the third installment she described the procedure. Today she tells us what happened after she took a pregnancy test.
I knew I was pregnant from the home tests, and it never really occurred to me that anything bad would happen until I told my friend who had gone through this process (and now has a baby by an egg donor) that it had worked. She said, "Oh, I got pregnant a couple of times, but it doesn't mean anything. It probably won't stick."
But I was excited. Even though people tell you that you shouldn't, I started thinking about names. Girls' names, actually, because I already have a boy's name. I started thinking about how much fun we were going to have-just the two of us. Maybe this baby is going to find a daddy, the one I couldn't seem to find. I couldn't wait to meet this person. And although I had been thinking about how much work it was going to be to raise a child on my own, I got my first glimpse of how much I was actually going to receive from this cool little being. Motherhood is going to be a lot of fun. Not just diapers and nights with no sleep. A cool bond and a fresh new perspective.
After the positive pregnancy test, I went in for a blood test to have my beta and progesterone levels checked. The nurse called me later that afternoon and said, "Your beta levels are 54."

I had no idea what that meant, except that even though the nurse was trying to sound optimistic and upbeat, I could hear something in her voice that told me this was not really good. She assured me that they look for levels between 50 and 300 and everyone is different.

My progesterone levels were below 10 at 7.5, so they wanted me to start progesterone right away. I kept telling myself that I needed to keep my spirits up and think positively, although I knew this was a tenuous situation. I had to wait two days for the next test, and during that time I forced myself not to panic. I tried to send my embryo "good" energy, tried to eat perfectly and took my vitamins diligently.

I felt that this was still in God's hands, but that I had to make my own best effort.

I couldn't help thinking things might be different if I hadn't exercised or gotten caught in the heat walking to a restaurant, or if I hadn't been nervous, or had said a prayer at the right moment.

On Wednesday, I got back my next test results and the nurse said, "I'm sorry, your numbers went down to 22." I expected it, so I didn't have a melt down, but I did feel a lot of sadness. And frankly, a lot of fear. I was scared that maybe my eggs are too old, and it will never work. I kept trying to stay focused on the good stories. Someone I know had a baby with no problems at 44, another friend easily had her second at 41. Good stories. Keep your attention on the good stories, Kat.

I asked the nurse. She said that based on these numbers it was not a viable embryo from the get-go. "It doesn't matter what you did, it wasn't going to stick."

This is a very common occurrence, actually. Now that they can test for pregnancy so early, they know about these miscarriages, but previously most women just thought they got a late period-they had no idea they were even pregnant.

I decided to treat myself and got an ice cream. The creamiest, most fattening one I could find. I sat on a park bench, ate it, and cried.

I got the final numbers on Friday. My beta level had dropped to six. I went to acupuncture to calm myself down and strengthen my system. I got my period on Friday night and I knew it was over. I was glad in a way. My body was hurting just waiting for it and the sooner the better so I can start again. I grieved a bit, counted the days to my next ovulation (and the next possible due date!) and decided to look forward.
Photograph by Digital Vision/Getty Images.
---