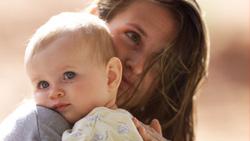 "Kat," a single physical trainer from New York, has long wanted to be a mother. Now in her early 40s, she is currently undergoing Intrauterine Insemination (IUI). She has agreed to share her experience with us, although she would like to keep her identity private. In her first installment she descrbed her decision to try to get pregnant this way. In the second part she told how she picked the sperm donor . Today she describes the procedure.
I walked into a pharmacy last night to check out the home pregnancy tests. I've never used one before. They have tests for three days, four days, and even five days before you expect your period. I am trying to decide if I should get them. I had planned to wait the two weeks and go in for a blood test at the doctor's office, but everyone keeps asking me why I hadn't taken a test yet. It's been 10 days since the IUI-too early to tell anything. Normally I hate suspense. But not knowing has actually provided some sort of bliss. It's nice to just enjoy this time, possibly the last days before saying goodbye to my "freedom" and entering the busy life of a single mom.

But this waiting period isn't exactly relaxing. Ever since the IUI was complete, I've been turning over the same questions, tackling doubts that married friends have told me they had, too, when they found out they were pregnant for the first time. What did I do? What will this be like? Is everything going to be alright? Did I make a mistake?


The night before the procedure, I stayed at my very friend Angie's house. She'd agreed both to be the godmother and to go with me to the appointment. I was relatively calm and slept pretty well. I'm not saying I wasn't nervous or nonchalant but I decided just to let it be, rather than ratchet up the stress level. In the morning my friend brought me tea in bed, then we did a little prayer ceremony and got dressed. (I wanted to look especially nice for the momentous day, I'm not sure exactly why.) On the kitchen counter was a note from Angie's husband saying "GOOD LUCK" with a big smiley face … we put it aside for a scrapbook and cabbed it to the appointment.

We were early, and I was getting more nervous. Not really feeling up to speaking. We got something to eat, took some pictures of me outside the bank, and went in. I was feeling sick, trying to read, trying to calm myself down. I've spent hours wringing my hands asking myself am I doing the right thing, what if the child is not healthy, how will I afford it? How will I have enough help? I have so much more respect for my mom, who at 23 had two kids in a new city with no family and no friends.

Waiting for the sperm to defrost, Angie said to me, "You have always wanted kids, I've heard you talk about it for years. You've been out there looking trying to find the right guy in time and you didn't, just do the IUI. And don't make a scene in there." She continued: "It's a beautiful sunny day, your baby will be born at the perfect time of year-and don't worry, because it probably won't work anyway. You'll be lucky if you get pregnant."

Actually it's true. The chances of it taking are not high. For women over 40, there's about a 50 percent chance of getting pregnant over six months of trying IUI. I know so many women that have tried it three or four times and still have not gotten pregnant.

Yet somehow I know I'm getting pregnant on the first try. I have always thought that. We are fertile in my family. I have never been on the pill. I eat mostly organic foods, have taken my vitamins religiously since my 20s, don't drink coffee, basically take good care of myself.

I had to go into this with the idea that it could take, because the decision is forever.

OK, the sperm is ready. They actually hand you the vial, tell you to keep it upright and walk it downstairs from the lab to the doctor's office. So here I am carrying a vial with about 2 tablespoons of my baby daddy's sperm through the hallway. We took pictures of me holding it, waiting. Now I'm called in. ("What am I doing?" Have I lost my mind?") The doctor comes in and they put the sperm in in a syringe. That's it, it's done. No flinching, just a lot of cramping. I lie there for 15 minutes, my eyes are tearing a little from fear and a little from excitement. This is momentous. And now it is time to wait. Everything is in God's hands. That in itself provides some kind of relief.
---