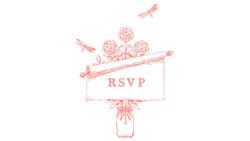 This is part seven of Bridget's wedding countdown. Read parts one , two , three , four , five , and six .
In less than two weeks, our wedding will be over, and our marriage will have just begun. But until then, there's plenty to orchestrate. My mom ( you remember my mom ) told me that when she reports to her friends with recently-married children that our wedding prep is going smoothly, they all say, with the best of intentions, "Just wait. Something will go wrong."
I get it. Life is full of unforeseen turns of events; why should weddings be any different?
I keep trying to imagine the worst thing that could happen, which is known in the world of psychology as "catastrophic thinking." I'm great at it. Here's a brief litany of the thoughts that usually occur to me when I get up in the middle of the night to use the bathroom and take out my retainer: My veil will not be ready in time; the Gruner Vetliner will not be cold enough; my hairpiece makes me look like I have a pinhead; no one will have fun; no will dance; the caterers will be late; the rehearsal dinner toasts will veer into the wildly inappropriate (as opposed to the acceptably inappropriate); I will get bronchitis two days before the wedding; Dan will get bronchitis two days before the wedding; someone will get bronchitis two days before the wedding; no one will have fun, again.
But here's the truth: No matter what goes wrong, everything will be OK. Actually, now that I've typed that, I can imagine a few things that would be really awful: sudden deaths, earthquakes … things like that. But even if a vendor is a no-show, or my hairpiece won't stay on my head, or a sudden freak frost kills all the Lisianthus, we will still get married. We will still be surrounded by many of our friends and family. We will still celebrate.
I'm reminding myself of that as I curse at our inkjet printer. We are printing the menus and programs ourselves … or rather, trying to print the menus and programs ourselves. There are other things left to be done-things that will not really matter on the day, but that I'm fretting over anyway. Don't all the guests want to know if they are eating Tilapia or Barramundi? I know I do. Oh! And the escort cards-that's what they call the card that tells you where you are seated-we have to do those, too. And we have to bake/buy cookies to deliver to the neighbors in an attempt to make them less likely to call the police and report a noise violation, although we should be wrapping up around the time that becomes an issue. We are, so you know, planning on exploiting the bridesmaids by making them deliver the cookies. They're all quite charming young ladies.
As we've gotten closer to the wedding, I've realized that this about so much more than just us exchanging vows. It's an occasion for everyone to get together and celebrate. Satellite celebrations are springing up all over the place: Family members who get in early are meeting up; the bridesmaids are barbequing with everyone who arrives on Friday; Dan's great aunt is taking a week to travel around Southern California. I just hope everyone wears plenty of sunblock, since another item from my middle-of-the-night fears is that people get sunburned, so they don't have fun.
I'll let you know how it goes, but I can tell you now, I think it'll go pretty well! Hear that? That's the sound of the fates getting tempted; they love a party.
Image courtesy of Bridget Moloney.
---