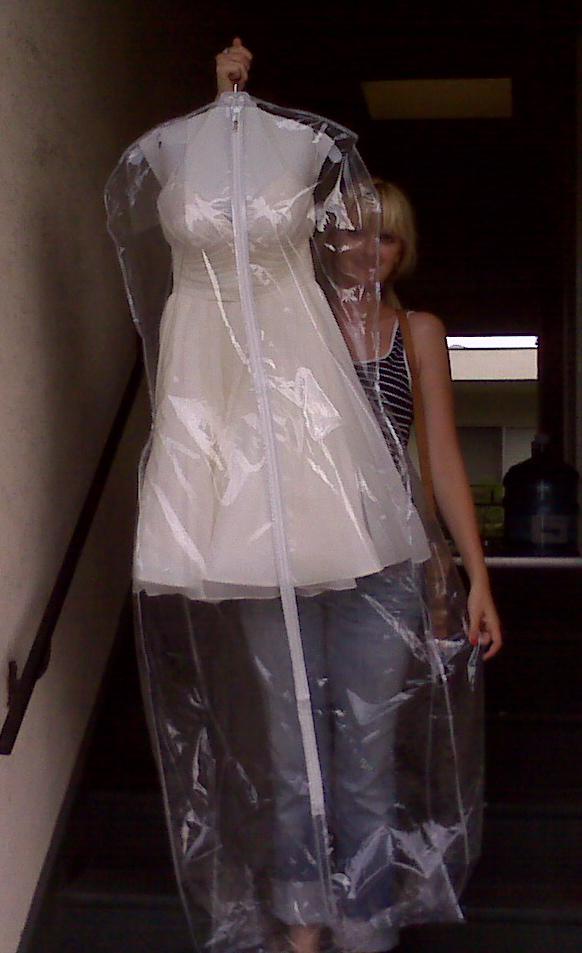 This is part five of Bridget's wedding countdown. Read parts one , two , three and four .
I wanted to wear white. I'm not wearing it as a declaration of my virginal status. I'm doing it because it's my wedding and this way no one else will be wearing what I am. I am a big believer in appropriateness.
Even so, I'm wearing a short dress. It's definitely a wedding "gown" but it's not strapless and it doesn't have a train. After we decided the wedding would be at my grandparents house over Labor Day weekend, I eagerly went to the J.Crew website to start looking at dresses. (I was a J.Crew lover years before Michelle Obama.) But everything seemed too sophisticated or formal for the event. It's Southern California at the beach! Wearing a floor length gown seemed all wrong. So I ordered a Diane Von Furstenberg mini dress that was expensive enough to be a wedding dress. But when it arrived it was deemed too casual.
Then my sister found a dress on the Priscilla of Boston website that was fabulous. It was organza and knee-length and sexy but still sweet and young, and it had pockets, which I love.
I found a local bridal salon that could order it for me to try on and made an appointment. You think you've met obsequious sales people in the past? Trust me, the bridal salon staff will take you to a whole new level. It's all very, "Oh, Mom! Oh! She looks like a doll, doesn't she? Are you going to cry? Bridget, don't you just love it? You look so incredible!"
Every time. Every dress.
Once in a while they'll throw in, "I liked the Audrey better" (all the dresses have names) to make you think that they're actually offering opinions. When we decided on the dress my sister had found online (the "Karalyn") they opened champagne. We took polite sips, but I had just had dental work, and it was 11:00 a.m.
The dress almost fit when it arrived. The waist needed to be taken in a little bit, but the bust, oh, the bust. I have heard Diane Von Furstenberg is now cutting her dresses differently because so many women have breast implants. I think the Vineyard collection of Priscilla of Boston might be up to the same thing. I could have fit two volleyballs in there. I went to Gabriel the tailor in Corona del Mar. We pinned, we added cups (foam cups are in almost every wedding dress, though in these modern times most grooms know what's really going on), we pinned more. And then he went to work and I went home.
I am, by trade, an actor. I mention this because I often get my hair and makeup done professionally, and I like it. I've conducted numerous experiments, and if I leave the set of a job in full makeup, friends and family will tell me I've never been more beautiful. It's sad what a little eye shadow can do. The one time I went straight to dinner with my hair all fluffy and nice and a full face of product, the gin gimlet refills were free. So you would think having my hair and makeup done by a pro for the "big day" would be a no-brainer. And yet-I wasn't sure. It seemed like an unnecessary expense. Weddings don't nickel and dime you, they two hundred and fifty you. My parents said they would pay for me to have my hair and makeup done, but I was still on the fence.
Then I really thought about it. I had my makeup done for prom. If I did it then, why not now? I found someone reasonably priced and went for a trial. Wedding makeup and hair artists like to see a picture of your dress; she squealed with surprise when she saw mine.
Growing up I was never particularly interested in playing bride. Even as I got closer to actually wearing white, I didn't have a concrete idea of a wedding "look." I knew I wanted to look like myself-the best version of myself. Or just a very nice version of myself.
I am doing my regular fitness program and eating and drinking everything. Two of the recently married women I know lost several pounds the week before their weddings. My soon-to-be-sister-in-law referred to this as "wedding tummy." You are so worried about the commitment you are about to make or the seating arrangements that you can't eat or if you do, your stomach reacts unfavorably. We'll see. Right now the only wedding tummy I have involves an insatiable appetite for chips and guacamole.
Read the next installment in Bridget's wedding countdown here .
Photograph courtesy of Bridget Moloney.
---