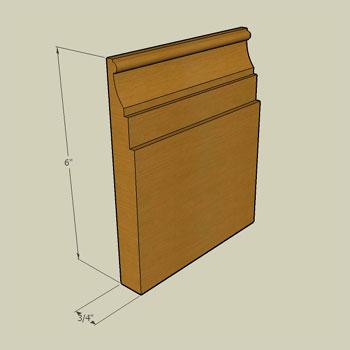 My friend and font of recent blog post ideas recently e-mailed with this query:
Moldings: When? Where? And when not?
Good one! I guess I'm a little conservative on the topic: Stock moldings in new homes can look so … stock . Walk through 10 subdivisions in Boca Raton and I guarantee 80 percent of the houses will have the exact same crown molding in every room. Same for anemic baseboards and wafer-thin door and window casings. Do you live in a historic home, or even just one built before World War II? Unless you're Richard Meier (who went all Corbusier in a Rosario Candela building), I say leave well enough alone. Save me a spot on the preservation board! Seriously: If you plan on moving walls or adding doorways in an older house, take pains to match the existing molding, even if it means ponying up for custom millwork. Continuity is key and it will make a COLOSSAL difference. If you're undertaking a gut renovation and are nonplussed by the old trim, rip it off and start fresh with these pointers in mind (top to bottom):
- Crown molding: NOT the superhighway to Classy Decor (pains me to write that). What's the style of your house? How tall are the ceilings? If they're around 8.5 feet or less, any molding at the cornice might make the room feel stumpy, whereas a crisp line (and perhaps no color differentiation between the two planes) could make it expand. My dear aunt lives in a perfectly proportioned Norman-style house with original plaster walls, high ceilings and NO crown. And no window casing for that matter-just substantial baseboard and door trim-it's chic! Spanish, Mediterranean, Craftsman, Moderne, Ranch: These are historic styles that probably don't require a crown (and will hence save you money). It's also fine to vary the styles within one house. Folks have written entire treatises on orders and hierarchies and such, but my SparkNotes version reads: "Fancy it up in entrance halls, living and dining rooms. Forget it in kitchens, pantries, mud rooms, and the like."
- Window and door casing: More of a necessity due to framing and drywall/plaster practices, though I did recently fake a concealed door to my bathroom by spackling all the way around the opening and painting the wall and door to match. Have to say it looks pretty dang cool, even with the bulbous brushed nickel doorknob sticking out. But for trad trimmings I think wider is better: Casings less than 4 inches wide with little or no detail look depressing. Would much rather spring for this more expensive profile .
- Baseboard: A must, unless you're a hardcore modernist/minimalist. I'd reverse the crown logic and advocate tall, complex baseboards even in small rooms with low ceilings; they're like a strong foundation. Mugatu taught me a trick: Paint the rectillinear lower portion black, especially if you have black or ebonized floors, like in this gorgeous Greek Revival townhouse he decorated. The white line between lends an unexpected dimension and furniture seems to float about the room. Of course floating isn't hard when you have 15-foot ceilings like these folks do … talk about crowning glory!
---