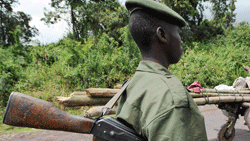 This New York Times article about men being raped in the Congo is one of the most unsettling I've read in a long while. This one scene alone should linger in your mind for days:
Tupapo Mukuli … said he was pinned down on his stomach and gang-raped in his cassava patch seven months ago. Mr. Mukuli is now the lone man in the rape ward at Panzi hospital, which is filled with hundreds of women recovering from rape-related injuries. Many knit clothes and weave baskets to make a little money while their bodies heal.

But Mr. Mukuli is left out.

"I don't know how to make baskets," he said. So he spends his days sitting on a bench, by himself.
Writer Jeffrey Gettleman presents a bleak situation, but an acquaintance in the NGO community thinks there may be one small good thing to emerge from publicizing this awful problem. She believes the article "challenges people to think about how they can reach out to male victims of sexual violence, a thing that is so often put off as a 'women's issue.' … Most NGOs are majority women, and I think that is because women seem to be more aware or interested in solving the very physical wounds of war while men focus on the power dynamics of the conflict at large." She acknowledges that this is a "gross generalization," but it does ring true, and hopefully articles like these have a tangible effect on the NGO community.
Photograph of Congolese soldier by Guyot Pascal/AFP/Getty Images.
---