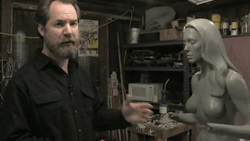 Daniel Edwards-the celebrity-obsessed sculptor who has already blessed the world with Britney Spears giving birth on a bearskin rug and Suri Cruise's bronzed poop -has just announced his latest work: A statue of Angelina Jolie , enthroned, majestically nude, and suckling a baby at each breast like it ain't no thang. Weird? Sick? Magnificent? I can't really tell.
According to the press release , the work-commissioned in honor of World Breastfeeding Week-was inspired by Jolie's W cover from last November . Though Jolie's two-handed pose looks awfully precarious to me, apparently she is demonstrating the " 'football-hold,' an accepted technique for breastfeeding two babies simultaneously." Best tidbit:
In recognition of the global effort to encourage breastfeeding, one twin is depicted as being of African descent. Future castings of the statue will represent other world cultures through variations of the babies' patina coloring.
Edwards' most recent paean to motherhood is the hot pink " String of Babies ," a limited-edition, flexible polyurethane rendition of Nadya Suleman as a baby-bedecked cephalopod.
Photograph of Daniel Edwards discussing his statue of Angelina Jolie courtesy of the sculptor.
---