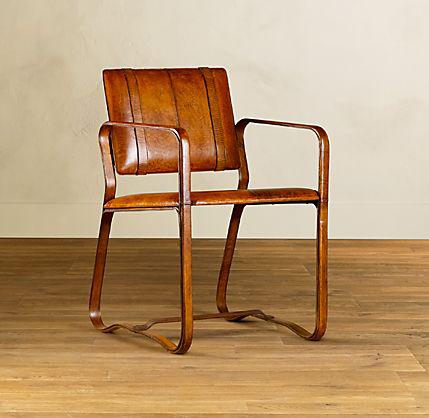 I don't know if you've stepped foot inside a Restoration Hardware store lately or flipped through the catalog, but things have changed since their days of peddling retro-inspired clocks and toasters. They now regularly team with new furniture and lighting designers, promoted with Peter Lindbergh-quality portraits and lengthy bios, and hock their wares … most of which fall into the WHOA! category. And it seems they've taken more than a few cues from the trade-only standard bearers of style. To wit:
- The Buckle Chair (pictured, $995): For years Ralph Lauren Home has offered similar chairs (and desks and other pieces) for several times the price. I can't vouch for RH's craftsmanship-the catalog just arrived today-but the equestrian-inspired design nails the scale and stitching detail. I think both chairs nod vigorously to French designer Jacques Adnet , but I'm not certain …
- The Camelback Slipcovered Sofa ($2,270-$2,980): I took one look and thought, "Two words, one ampersand: Lucca & Company ." This camelback (I see no hump?) looks like a hodgepodge homage to the Belgian-y boutique's Lucca Sofa and their Todi , but the dumpy arms sort of compromise the design. Amy Perlin named a similar design after famed decorator Syrie Maugham , wife of W. Somerset.
- The French Upholstered Wing Chair ($1,310-$1,595): Speaking of the be-all, end-all of antiquarians (or pretty close), Amy Perlin has cornered the market on fabulously funk-da-fied seating. I'm not sayin' RH's wing chair rips off any of hers in particular , but the tatty-chic linen upholstery with evenly spaced tacks around the frame smacks of her haute-manorial aesthetic.
Final note: I know this stuff isn't cheap, but TRUST ME, the fancy alternative costs at least double-sometimes triple-the Restoration price. And the details are on point; waaaay beyond anything you'd see at Pottery Barn or even Williams-Sonoma Home. I'm impressed! (Please note my positivity and sincerity, as they may never return.)
---