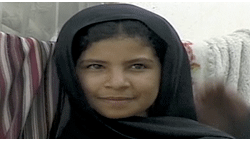 For women in Muslim countries with sharia-based government, gains are of a one-step forward, eight-steps back nature. CNN checked in with Nujood Ali , the Yemeni girl who became famous at the age of 10 after escaping her husband and making her way to court, where the judge who discovered her took her home to play with his children. Glamour honored her as woman of the year and brought her to New York for the awards ceremony.
But poor Nujood has not gotten her happy ending, as the CNN.com article demonstrates. Perhaps most offensive of all? Nujood was granted the divorce she sought, but:
her husband was compensated, not prosecuted. Nujood was ordered to pay him more than $200-a huge amount in a country where the United Nations Development Programme says 15.7 percent of the population lives on less than $1 a day.
That's right. The man who beat and raped her, and who went to jail because Yemen law sets the age for marriage at 15, got what amounts to spousal support from a little girl.
Image is a screenshot from a video about Nujood's story.
---