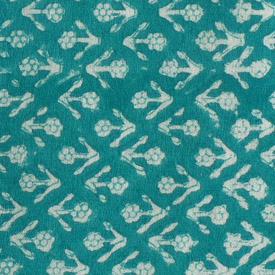 I'm always curious about which of these little decorating posts (if any!?) resonate with you kind folks. … I mean, back in the Domino days, my most commented-upon missive centered around a toilet seat. Go figure. But just in the last month, two readers e-mailed to ask about a fabric site I featured when Wes Anderson's The Darjeeling Limited premiered and sent me into Indian-inspired overdrive. And then Mugatu needed inexpensive paisley block prints for a client's guest bedroom and sent me a-Googlin'. A Celine Dion moment ensued, and once again I'm curry-ay-zee for these patterns! (Always crazy for Mr. Anderson's visual quirkfests, even stop-motion animated films about foxes .)
The site? Friends of Tilonia , a nonprofit organization benefiting the craft section of the Barefoot College, a 35-year-old institution that addresses the basic needs of India's rural poor by promoting their artisanal skills. They offer all sorts of soft home furnishings, and their block-printed fabrics (see the turquoise delight, pictured) are truly stunning. And only $14.95 per yard! That's a SMALL fraction of what John Robshaw charges, though his selection and color palette are broader and equally gorgeous.
Where else can you go to outfit your mini-maharajah's palace? I've compiled my favorites, starting with the best and cheapest:
Vegetable Dyes Paisley Sienna , $4.98 per yard. A muddier color palette but so much detail. An entire room done up in this print would feel very Mongiardino meets Little House on the Prairie .
Hidden Treasures Lakeside , $17.95 per yard. I could see this overscale paisley on a suite of slipcovered upholstery sitting on a blue-and-white-striped dhurrie rug.
Michael Miller Mary Alua White , $4.98 per yard. I wish they still offered the blue colorway my pal Robin used on her tented loft bed fantasy , but this tan version is soft and subtle.
Treasures Paisley , $4.95 per half-yard. India after dark! Love the black background but ReproDepot says quantities are limited. Why is this the case with all the best patterns?
---