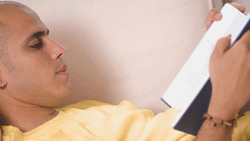 On Monday Double X published an excerpt from Lizzie Skurnick's new book Shelf Discovery: The Teen Classics We Never Stopped Reading , and I've since found myself paging back through my own copy of her ode to the young adult novel. In the office earlier today, Noreen and I were discussing what the book suggests about why women read. We thought others might want to chime in here.
Skurnick's thesis, which she defends with her usual contagious exuberance , is that books like Daughters of Eve , From the Mixed-Up Files of Mrs. Basil E. Frankweiler , Island of the Blue Dolphins , and Jacob Have I Loved are important, that their companionship can be the thing that keeps you from dissolving into a pool of self-doubt before you ever get to kiss someone or get your own apartment or write a book. What she never explicitly acknowledges is that the authors and protagonists of most of the novels she discusses are female, and that she is writing specifically about how these books shape their readers as women. Certainly many male writers have reflected in print on the books that shaped them as thinkers, writers , and human beings. Do we have an example, though, of a man talking about the stories that showed him how to make it as a man? Which once again raises the larger question: Do men think of their maleness as being a distinct, challenging aspect of their humanity, as women must to at least some degree (see the prehistoric maxi-pad-with-belt in Are You There God? It's Me, Margaret ) regard being female?
Photograph by Getty Images.
---