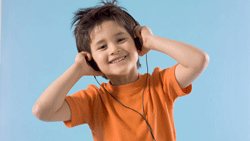 This year marks the 10th Anniversary of Putumayo Playground, the series of albums from the famed world music compilers created especially for kids. Fans credit it with being part of a revolution in kids' music which, along with artists like Dan Zanes and Laurie Berkner, turned what had been a wasteland of painful ditties into music kids and parents could enjoy together. Indeed, there's some catchy stuff out there, but you won't hear it playing in my car. What's wrong with Bruce Springsteen? If ABBA isn't kids music, what is? Is there anyone out there whose kid doesn't rock out to Flo Rida's "Jump?"
With my first kid, I played kid music in the car, but after three years of "hello, everybody, so glad to see you!" (again! again!), I gathered the remnants of my brain, poured it back into my head and put an end to it. I won't be able to get them to listen to what I want to listen to for long, but for now, I'm in charge, and that means saying "no" to the CD someone gave us featuring Alvin and the Chipmunks.
Do you play kid music for your kids? Did you grow up on "Free to Be You and Me," or did your parents (like mine) subject you to Barry Manilow? Are our kids missing out if we give " Picnic Playground " a miss?
Photograph by Digital Vision/Getty Images.
---