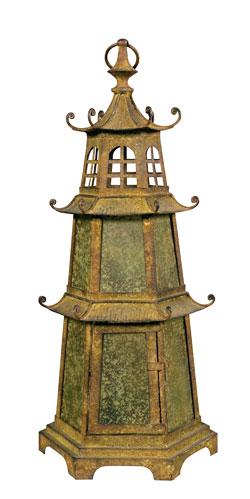 Sort of like glass condos in Williamsburg or the proverbial bunny rabbit, trends in design tend to proliferate until government intervention is necessary. What starts as Richard Meier gorge ends up Toll Brothers fug, but enough with my real estate analogy; let's look at three decorating trends that refuse to die, and why.
1. Ikat . At some point in the early- to mid-2000s, every person of means in the United States took a little trip to the Silk Road and brought back at least one throw pillow . Or so Elle Decor would have us believe. Don't get me wrong, I LOVE the look of this patterned weave (real ikats are made in places like Uzbekistan on looms only 16-20 inches wide), but at what point does exotic get downright ordinary? Oh right, when it lands on the shores of West Elm . Verdict: still cool and graphic (oof, there's one for Decorno's word funeral ) if it's the real woven deal, but ikat-printed linens and canvases never get the pattern right and just look bouge-y.
2. Chinoiserie . I was recently quoted in the People Magazine Style Watch basically dissing Asian-inspired motifs … and I've got more venom to spew! Yes, I still own a little white porcelain pagoda piggy bank similar to the one above that needs to painted. Yes, I still love scenic chinoiserie wallpaper even though it costs my entire salary. And Chinese Chippendale fretwork. But Nicky's peepers is just tired of seein' em all the dang time-can't we design-pillage another country? (Sorry, Morocco, you're it.) A particularly savvy anonymous commenter on my other blog once noted: "One day, we'll discover that the Chinese have a weirdly overstyled, vaguely condescending decorative arts tradition called Americanoiserie." BINGO. Verdict: still chic in moderation … one or two Asian pieces, yes. Entire pagoda-themed rooms, no.
Lastly,
3. Chevrons , I wish I knew how to quit you ! Seriously, I know I should be over the zigzag by now, but it's just so hard to mess up. Ex- Domino -er Michelle Adams started her own line of fabrics called Rubie Green, and this "East Village" chevron still looks fresh to me-what a smartly designed website, by the way. For my current painting projects I might leave out The White Stripes and alternate black with tan on a coffee table table top, or use slightly different tonal shades of the same color, like lavender, on a wood floor. Or vary the widths of the zigs and the zags. Verdict: I'm still filling up at the chevron station. (Sorry! It's Friday.)
---