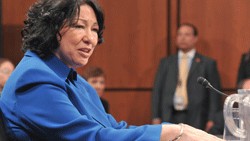 One of the many interesting details in the Washington Post 's bio of Sotomayor yesterday involved her compromise over taking her husband's name. The weird hybrid she came up with seems to embody all of her ambivalence about love, ethnicity, and being a workaholic woman. She married Kevin Noonan just before law school. He was Irish, and, like many women, she was mindful about losing her identity. ( Emily quotes Margaret Mead on that subject here.) So she went with Sotomayor de Noonan, which to me sounds like a countess but was meant to be a nod to the Latin American construction. The result was the preservation of her ethnic identity at the expense of her feminist one. The decision was "not consistent with the feminist movement," explains Jose Cabranes, one of her mentors. "It means belonging to." They divorced after a few years.
Her second love story is full of similar poignant ambivalence. She was engaged for eight years to an architect, Peter White. When she was sworn into the 2 nd Circuit, she surprised the crowd with a public love poem to him. "The professional success I had before Peter did nothing to bring me genuine personal happiness," she said. But that relationship didn't work out either. White told the Post that she is "extremely dedicated to her work," and it took up "90 percent" of her time.
Photograph of Sonia Sotomayor by Nicholas Kamm/AFP/Getty Images.
---