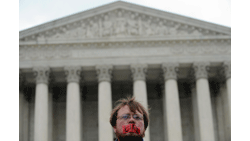 Abortion hasn't dominated the debate in the run-up to Sonia Sotomayor's Supreme Court confirmation hearing, but everyone's favorite wedge issue has (briefly) stolen the spotlight today.
Two men wrangled coveted public seats to the hearing, only to be booted when they interrupted Democratic senators by standing up and shouting about abortion.
The first, a sharply-dressed man in his 30s or 40s, jumped in during Sen. Dianne Feinsten's (D-NY) laudatory opening statement with, "Senator, what about the unborn? Abortion is murder!" He got this much out before the Senate police officer standing nearby grabbed him and pulled him outside (it wasn't much of a walk; he was conveniently located within three feet of the door). He wasn't quite out of earshot though, and he managed to yell "Stop the genocide of unborn Latinos!" before the door shut and he was alone with the cops.
It was a little awkward for Feinstein, whose next topic was, unfortunately, Roe v. Wade.
Chairman Patrick Leahy's (D-VT) lecture after the first outburst must not have been stern enough, because about an hour later, another man popped up out of his public seat, shouting "Abortion is murder!" He, too, was shown the door and Leahy gave the crowd another talking-to. After the lunch break, a man and a woman who were already filing out of the public area shouted anit-abortion slogans, one in English, the other in Spanish. Sens. Sessions, Feinstein, Graham, and Coburn went on to reference Roe during their opening statements (and without getting hauled out).
Photograph of an anti-abortion activist praying for Sotomayor in front of the Supreme Court by Jewel Samad/AFP/Getty Images.
---