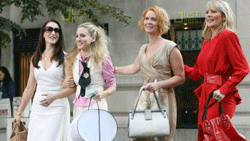 I was a major, unabashed fan of Sex and the City. (The show, that is-the movie was a grating, be-crinolined, poopy joke nightmare.) The things that bothered other people-the sex and status obsession, the what-planet-are-you-on depiction of a freelance writer's earning potential-never really bothered me. Its lily-white vision of New York, however, did. A lot. It wasn't just that there were no recurring characters of color, save Blair Underwood's dashing doctor. It's also that, whenever a person of color did appear, there was usually something cringe-worthy about it.
OK, so Lucy Liu and Margaret Cho made some non-disastrous cameos. But think of the sweet, misguided Pakistani waiter who tries to take Samantha home after she's been stood up; he gets brushed aside as a totally inappropriate partner. (By Samantha! She'll sleep with anything! She slept with this guy !) Or the horrifying, double-crossing Thai maid who inspires what is, perhaps, SATC 's worst pun ever: "She wasn't so dim, that Sum." (No mean feat, winning that accolade.) And of course, as many, many commentators pointed out, there was Jennifer Hudson in the movie, playing the magical black helpmeet.
All of this is preamble to explain why I'm so interested in the new extras casting call for Sex and the City 2 , which Gawker posted yesterday. Next Tuesday, casting agents will be looking for the following:
Fashion Models, Celebrity types, Upscale Socialites, Fashionistas, Urban Club goers, Gays and Lesbians, International types (Middle Eastern, Arabic, Asian, European, British), Professional Soccer Players.
I would love, love, love to see more "Middle Eastern, Arabic, [and] Asian" faces in the new movie. I hope that they're actually used for New York scenes, not just in scenes that are supposed to take place abroad. (It doesn't count if you show more brown people in a country where everyone's brown.) And of course, it would be even better if they cast some actual characters of color. We live in New York and like shoes and fancy dresses and expensive cocktails, too! We fall in love with wildly inappropriate men, too! How big a stretch would it be?
So, for the moment, cautious optimism for one of my favorite franchises. Is it justified, do you think?
Photograph of Kristin Davis, Sarah Jessica Parker, Cynthia Nixon, and Kim Catrall in Sex and the City: The Movie courtesy of New Line Cinema.
---