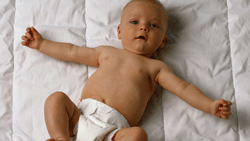 16 and Pregnant has been appointment television for me since I reviewed it for Double X 's "Xxtra Small " and was thrilled to learn it's been picked up for a second season . But like Jess, I find myself wondering whether the show will keep any teens from becoming moms . I suppose the National Campaign To Reduce Teen and Unwanted Pregnancy, which helped produce the series ( get used to these sorts of nonprofit/TV partnerships ), would measure success by whether more teens get intimately familiar with contraception and, for the love of god, use it correctly. The show's teen stars are utterly thick-headed about family planning. One couple claims conception happened after they used a condom that had been through the wash; another baby came about because of that oldest excuse-the young dad just doesn't like condoms.
Some critics have faulted the show for not presenting abortion as an option, but I have to agree with 16 and Pregnant 's decision-for one thing, it might not be safe for a teen to go through an abortion on national television; for another, it'd be hard to fill an hourlong show. One option 16 and Pregnant did present, with the season's final couple, was adoption. Tyler and Catelynn are stepsiblings: His dad and her mom met and married after the kids started dating. Tyler's dad spent significant periods of time in jail; Catelynn's mother battled some vaguely referred to "problems" (I'm guessing of a substance-abuse nature). Despite pressure from their parents to keep the baby-Tyler's dad says he thinks his son should "man up," because "all a baby needs is love"-the young couple selects a picture-perfect adoptive couple for their daughter. The show makes it clear that adoption is not the easy solution-Tyler and Catelynn cry buckets of tears before, as, and after they hand over their little girl. But perhaps the constant refrain of how this is the best thing for the baby and for the teenagers will sink in. Or, at the very least, maybe couples who decide to keep their babies will go in with their eyes a little more open.
Photograph by Getty Images.
---