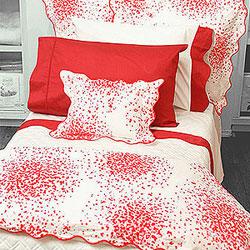 Is everyone getting excited for the holiday weekend? What, you don't get Friday off? How positively American! Kidding-quickie post here today because I'm currently vacationing through the 4th of July in our family homestead, a red-white-and-blue Craftsman bungalow. It's inspired me to make this palette cool again and not so Country Living . Here are my picks to help you declare your decorating independence (from corniness):
Stars : What about a chic five-point paper lantern in red? At 24 inches wide, it would make a liberating statement in a powder room. I also love these mirrored stars Ballard Designs (go for the 30-incher at $199).
Stripes : Cotton dhurries in stripes and chevrons are still as popular as apple pie from the McDonald's drive-through. I like Ballard's red and white rug because it works indoors and out and won't fade ("these colors don't run!"). $699 for an 8'x11'. Oh and there's a charm to this plaid mat from Ikea, practically free at $6.99.
Fireworks : I'm desperate to find Hinson and Company's fabulous "Fireworks" wallpaper online, but this Lulu DK for Matouk bedding (pictured) shares the same exuberance. Spendy, yes, but how can you put a price on decorating freedom?!
Classic Kitsch : Sorry, I really like these flag-embroidered napkins from Wisteria ($39 for a set of 4). So pretty on a solid blue tablecloth with a gigantic red carnation centerpiece. And what about old wooden-toofed George Washington propped on a bookcase? I cannot tell a lie: I like a plaster mini-bust.
Happy 4th, y'all!
---