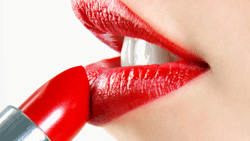 There's an amazing feature in the Wall Street Journal that's ostensibly about interior decoration, but which actually brings hope that mankind-OK, make the womankind-might find a way to live in peace. Thia Breen is a top executive with Estée Lauder, and Laurie Dowley is a top executive with Elizabeth Arden. The women have been a couple for 28 years-and for those decades each has risen in the ranks of a company that is the other's arch-nemesis.
Can you imagine top executives from Apple and Microsoft living together? Coke and Pepsi? I know there's Mary Matalin and James Carville-but they've turned their political differences into income-generating shtick. Lauder and Arden are a real rivalry. How does their relationship work? Each morning there is Breen putting on her Estee Lauder Hydra Lustre lipstick in Tender Mauve, and Dowley applying her Elizabeth Arden Color Intrique Effects in Geranium Shimmer. They take the elevator down, kiss goodbye (creating the shade Mauve Geranium), and go to the office where they try to corporately bash each other's brains in. Yet they look perfectly content in their apartment (which is a little too fussy grandma for my taste).
Forget Mars and Venus. This Venusian couple should write a book on unlocking the secret of how we all can get along.
Photograph by Digital Vision/Getty Images.
---