Do you have a real-life do-gooding dilemma? Please send it to ask.my.goodness@gmail.com and Sandy will try to answer it.
Dear Sandy,

I've lived in the same medium-sized city where I went to college since I graduated a few years ago. All of my college friends have left, and I haven't been able to find an activist community in which I feel effective and at home. It's starting to get really lonely and disempowering. The few local activist organizations are either heavily church-oriented (I'm not) or dominated by boomer hippie types. I know of one group of activist-y folks who are younger, but I'm uncomfortable waltzing into their regular Drinking Liberally meet-up out of the blue. Our city is too small to hold much of a progressive scene, so I would definitely be noticed as the new person. I guess this is a grown-up extension of my childhood shyness. Any suggestions?

—Penelope
Sandy: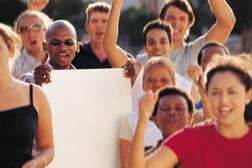 All I can say is: Dive in. Part of growing up is facing your fears. Whether that means giving your first presentation to the head of your company or walking up to a group of people you don't know, sometimes you just have to go for it. But I do have a few ideas of how to make it easier.
First, you didn't say whether you already volunteer. If not, start there. Volunteering can be a great opportunity to meet other do-gooders and learn more about your community. As my mom said in one of our past articles, local food pantries often have evening volunteer hours. That might be a good place to find other young professionals. Even a one-day commitment could lead to a new friend (and an opportunity to help others, of course). Sites such as  Volunteer Match, Idealist, and even  Craigslist have good ways to search for opportunities in your area.
Second, take a class at a local university or community college. Find something that interests you, such as "Architecture as Activism" if you're into sustainable design or "Health Policy in the United States" if you want to get involved in health care reform. Maybe you'll feel more comfortable approaching people in a setting you are familiar with.
Third, take the new friend you met while volunteering or taking a class with you to a meet-up to provide moral support. That could be the Drinking Liberally group you mentioned in your letter or something else. For those readers who haven't heard of D.L., it is a self-proclaimed "inclusive progressive social group" with chapters across the country. See, Penelope—it has inclusive in its first sentence!
But if you still don't want to go to the Drinking Liberally get-together, there are a few other Web-based ways to find like-minded folks in your community. The first is the Young Nonprofit Professionals Network. YNPN is a nonprofit group that "engages and supports future nonprofit leaders through professional development, networking, and social opportunities." They have nearly 15,000 members from Seattle to Orlando, Fla.—including in smaller communities such as Omaha, Neb., and Jacksonville, Fla.
Another idea comes from a friend who felt as you do when she first moved to San Francisco as a recent grad. She checked out Meetup, which boasts "the world's largest network of local groups." When I searched for groups that focused on "politics and activism" near my hometown of Redmond, Wash., I found 52 groups within 25 miles. With more than 179,000 meet-ups a month, you're bound to find something interesting.
Finally, President Obama's ability to use social networking and grassroots organizing practically won him the election, and he's not stopping now. I've allotted an entire Gmail tag to the e-mails I get from David Plouffe. Organizing for America continues to rally around health care, energy, and education, and has a site dedicated to local activism.
The only catch: You still have to talk to strangers. But don't worry; people are usually pretty nice when they're trying to recruit you to help them save the world.
---