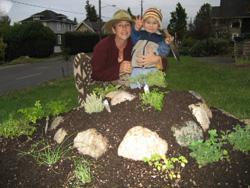 I met Jenny Pell when she spoke at a Mom's Night Out this May in Seattle. I loved her story-I loved her lifestyle!-so I asked her to share it with us on Your Comeback. Let us know what you think in the comments below. And if anyone else wants to share her story or describe her lifestyle for us, send me an e-mail at emma@thecomebackbook.com .
I got pregnant for the first time at 42, and was delighted as it was dearly wanted, but not expected. It was my first baby, but number four for papa. His children are 28, 25, 11, and now 2, by three mothers. I had sown lots of wild oats while he raised kids for 26 years-he was ready to take off and be free while I was ready to settle down and be a mama. My transition back to work for our family needed to include finding ways to satisfy free time for him, and creative travel for all of us.

I have enjoyed a raucous series of "careers" that have taken me to all corners of the world, given me a unique blend of skills, and facilitated my moving through radically different cultures and climes. I planted trees in the wilderness of British Columbia facing bears and wolves, total environmental devastation and regeneration, and living in bush camps and boats up the inside passage. I was a helicopter pilot, teaching aerodynamics and navigation, meteorology, and flying many experimental aircrafts (my mother's favorite was dubbed "the flying lawn chair"). I lived in a yurt on an organic farm, and went on to co-found a yurt-building company. I eventually came to be a full-time Permaculture Designer, a blend of all my skills rolled into one comprehensive job title.

I took two full years off once my baby Sacha was born. He is an easy, smart kid, and we practise(d) full attachment parenting-nursing, co-sleeping, wearing your baby, diaper-free, and added sign language to the mix. He was pooping on the potty at 2 months (never looked back), and totally out of diapers at 18 months. He topped out at about 500 signs, telling complete stories and songs, and when he started speaking at 16 months he had an enormous vocabulary.

We live in a big community house in Seattle (four adults and the baby), and trade 15 hours a week nanny care for rent in one room, so I have mornings free to work from home. We share housework, and some meals. I grow a big edible garden on a tiny urban yard, and love to barter for basic needs.

In the fall of 2008, I began preparing to work part-time outside the house by March 2009. In the two years at home with Sacha my field had exploded-all of a sudden everyone was growing organic food, installing efficient water systems, adding passive solar features to their homes, and wanting to learn all kinds of skills.

Was it peak oil, Michelle Obama growing an organic garden, collapsing economies, global warming, or a visceral dissatisfaction with the status quo? It doesn't really matter what path leads you to want to choose a healthy, abundant future, know your neighbors, and learn useful skills, what matters is that more and more people across the planet are making these choices, and turning these choices into jobs-some out of sheer necessity, and others because it is so compelling and satisfying.

I currently teach a one weekend a month Permaculture Design Intensive, give a monthly lecture and hands-on workshop. I'm also available for consulting: Jobs include backyard edible garden design and larger collaborative projects in the U.S. and overseas. While the bigger design jobs are the goal over time, in the short transition-back-to-work world my classes and workshops are full with waiting lists. And lucrative; I am earning $50-$150 an hour, building my skills and broadening my network while I cast about for more interesting and longer-term projects. I work for myself, set my own hours, and am in demand.

I find a deep joy in the work I do, and it is from that place of inner grace that I move through my work and family world. Look out to the horizon five, 10, and even 20 years hence and you must realize that the shift is on; each five years has been and will continue to be a radical departure from the previous five. Every step we take right now participates in crafting that future, for if we continue down the path we've worn this past century we will surely end up where we're headed-environmental, social, and economic collapse. Choose a job that participates in a different future-bring your skills to the table!

Women returning to the work force after staying home with their children are in a beautifully unique moment in their lives-we are all emerging from a cocoon of love and nurturing, teaching root values and ethics, managing households, and often juggling tight finances. We want our children (and all children) to have loving, bright futures, replete with opportunities and abundance. Mothers are natural stewards and have a talent for looking ahead-we have to! So consider transitioning into the rapidly growing and interesting field of "green jobs"-your skills are greatly needed there. The pay is good, the hours tend to be more flexible than traditional jobs, many jobs are suitable for part-time employees, there is lots of room for innovation, and all the green industries are growing.

And Sacha? At 2 and a half, he can identify more plants than most adults, already uses tools, planted the whole garden, harvests veggies, sings all day long, still uses sign language, knows all about compost, water cycles, fungi, insects, and even photosynthesis. And Papa? He adores the baby, and raising this kid permaculture-style!
Jenny Pell is a Permaculture Designer in Seattle. If you want to learn more about Permaculture, visit her website www.permaculturenow.com , and drop her an e-mail. She looks forward to hearing from you.
Photograph courtesy of Jenny Pell.
---