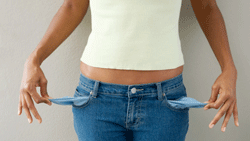 Official unemployment figures are close to 10 percent, while unofficial ones soar way above that. So it's not surprising that we are hearing from women whose transitions are being forced upon them in the form of joblessness. As a sign of the current economic times we are starting a new section today called I Lost My Job! If you have recently been made unemployed and want to share your experience then send it to me at emma@thecomebackbook.com with 'I lost my job' in the subject line. If you read one of these posts and think you have a good tip or some concrete advice for the poster, then please share it in the comments section.
It goes without saying that we hope this section will be a temporary one.
Today's piece is by Diane Reardon, a former marketing manager from Escondido, California.
As we shared an amazing meal of veggies from my garden, chicken that had been slow roasted on our smoker and bread I had made earlier from the whey of the cheese I had made, I wondered, 'Am I bored yet?'

I had just spent the last half of the afternoon with a girlfriend in my kitchen teaching her the magic of canning her tomatoes. There is, of course, no magic to that, but because canning seems to be such a lost art, she looked at me in wonderment as she lowered the jars into the boiling water.

"That's it?" she said?

"That's it." I said.

My transition started gradually and then ended quickly. I have worked for almost 20 years in sales and marketing, first in telecommunications and then as a national account manager for a small company. I could see that my salary was getting more burdensome on this small company. I told them I could work part time for a few months, and then in March I was laid off. My husband has taken this pretty well. I am very aware that it's not only the good money I made while working, it was also that I was-maybe-more interesting to talk to. Instead of sharing our challenges of customer issues and company gripes, I was telling him that the vacuum we have is really an amazing piece of machinery. Sometimes I self edit before I open my mouth, because even I think what I have to say is boring!

So here I am six months later, and I have embraced all of the domestic goddess stuff I was unable to luxuriate in while I was working 13 hours a day away from my house. Animal, Vegetable, Miracle? I'm living it, baby!

I had already acquired a couple chickens last fall but decided to crank it up a notch-I ordered 15 chicks from a hatchery and raised them in the garage. I just sold my last one on craigslist. I heard that burying fish carcasses in the vegetable garden was a great way to improve the soil. My husband brought home about 30 pounds of dead fish from his fishing trip (luckily I have a chest freezer that I could store them in.) I hacked them up and buried them in the garden-all the while thinking this is going to go either way-it will work great or be a complete disaster. Everything stayed buried and I have the most amazing zucchini I have ever grown. I bought a mixer on Craigslist and made bread. I bought the chemicals needed to make cheese and made batches of mozzarella. At 4 p.m. I sit down and read (did you know the library lets you use their books FOR FREE?). I volunteer at the county animal shelter as a dog walker. Every morning after I walk my dogs, lift weights and do yoga (again, a complete luxury) I wonder how I will fill my day. And I do.

The reality is that my unemployment will eventually run out and I'll need to do something more than sell chickens on craigslist to make ends meet. My friends tell me to follow my passion. I have been lucky in the past; the universe has taken care of me. I have a feeling it won't be that easy this time. Regardless, I'm looking forward to the transition.
Photograph of woman by Ciaran Griffin/Getty Images.
---