I realized that I've never done a post about my Four Splendid Truths , although I think about them all the time.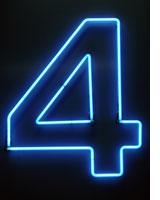 I named these realizations the "Four Splendid Truths" because I was reading a lot about Buddhism when I started to come up with the list.
I get a tremendous kick out of the numbered lists that pop up throughout Buddhism: the Triple Refuge, the Noble Eightfold Path, the Four Noble Truths, the eight auspicious symbols: parasol, golden fish, treasure vase, lotus, conch shell, endless knot, victory banner, and dharma wheel. (After I formulated the First Splendid Truth, I just had to assume that I'd end up with more than one.)
Each one of these truths sounds fairly obvious and straightforward, but each was the product of tremendous thought. Take the Second Splendid Truth—it's hard to exaggerate the clarity I gained when I managed to identify it. Here they are:
First Splendid Truth
To be happier, you have to think about feeling good, feeling bad , and feeling right , in an atmosphere of growth .
Second Splendid Truth
One of the best ways to make yourself happy is to make other people happy;
One of the best ways to make other people happy is to be happy yourself .
Third Splendid Truth
The days are long, but the years are short . (Click the link to see my one-minute movie.)
Fourth Splendid Truth
You're not happy unless you think you're happy. Corollary: You're happy if you think you're happy. [Many argue the opposite case. John Stuart Mill, for example, wrote, "Ask yourself whether you are happy, and you cease to be so." I disagree.]
Now I'm trying to come up with my personal eight auspicious symbols for happiness . Let's see—bluebird, ruby slippers, dice, blood, roses … hmmm. I will have to keep thinking about that.
* Ah, I love the blog Zen Habits .
* If you like the blog, you'll love the book! Pre-order The Happiness Project .
---