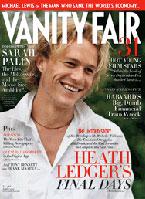 Sara, you said that childhood stardom was such a destructive force for Michael Jackson , and you were right. But the current issue of Vanity Fair has a cover story on Heath Ledger that shows for a sensitive adult, stardom ain't all its cracked up to be, either. This isn't a new idea: That's why "the price of fame" is such a cliched phrase. But Peter Biskind's story of the Ledger demise is particularly heart-stomping, since Heath was so young, so talented, and being a movie star really did ruin every aspect of his life.
It started in 2001 when Sony was trying to sell him as the next teen heartthrob after
" target="_blank"> A Knight's Tale . Ledger "ran into the men's room, sequestering himself in a stall where he had a panic attack." Things plugged along for years after that, because Ledger was not yet a household name, but that all changed with
" target="_blank"> Brokeback Mountain , and the accompanying Oscar press created a real fissure in Ledger's world. Terry Gilliam, who directed Heath in
" target="_blank"> The Brothers Grimm and also in Ledger's last movie,
" target="_blank"> The Imaginarium of Doctor Parnassus , said of the Brokeback hoopla, "You have to whore yourself around … And on Brokeback he really did whore himself around, doing all the things he hated. He felt angry with hiimself for going along with the way the system worked. He felt dirty. And then he didn't win." What's more, Ledger's girlfriend Michelle Williams did take the Oscar stuff seriously, and it caused the rift that would eventually end their relationship.
The Susan Boyle situation isn't really analogous to the Heath Ledger tragedy, but this article did make me think of Boyle's recent breakdown after the sudden avalanche of press she received. Opening your life up to massive public scrutiny in any area is psychological pressure that only the most steely egos can handle.
---