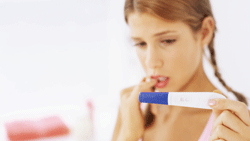 I've aged out of almost all of MTV's programming-watching barely legal 20-somethings binge drink grain alcohol on various incarnations of the Real World is no longer my idea of entertainment. But I've caught a few episodes of the MTV series 16 and Pregnant , and althought I'm not the target audience, I have found the show to be pretty riveting stuff.
True to the title, each episode follows a different teen mom-to-be for several months during her pregnancy, through the birth of her child, and into her first months of being a mother. Though there are twee Juno -esque interstitials, the series offers a pretty unvarnished view of being a teen mom. The second-to-last episode followed a Georgia girl named Whitney, who seems thoroughly beaten down by her pregnancy. She's dropped out of school and withdrawn from her friends almost entirely, and spends most days lying on the couch. Other women in the series seem to take pregnancy in stride, like Maci , who has a supportive family, graduates early, and goes to college, all while taking care of an infant.
In Salon today, Amy Benfer, who was 16 and pregnant herself 20 years ago, says, "No one's asking teenagers to take the girls of 16 & Pregnant as role models." But that rings false to me, because I know that the show was produced in conjunction with the National Campaign to Reduce Teen and Unwanted Pregnancy. So one could argue that yes, someone is asking these girls to be role models, and whether they want to be role models or not, they are going to be looked up to by some sheerly because they are on national TV. A much better point, one that Benfer also makes, is that what's great about the show is it gives pregnant teens "some space to talk about their own lives, rather than be talked about by others who see them as statistical symbols of social decay."
Tonight is the season finale of 16 and Pregnant , and this episode follows up with each woman months after she's had her baby. It will be interesting to see how they're faring. The show taken as a piece of art or entertainment is clearly a success: It's infinitely watchable and genuinely moving. I never believed that more girls wanted to get pregnant after watching Juno , or seeing Bristol Palin on network news shows. But I wonder if 16 and Pregnant -a show explicitly meant to reduce pregnancies-has any effect whatsoever on the behavior of teens who are watching it. My guess is that it's a wash, and that teens are more influenced by their parents and peers. What do you think?
Photograph by Stockbye/Getty Images.
---