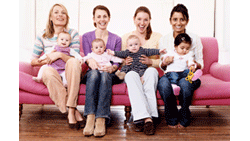 Yesterday's David Brooks column was written in response to the rarely asked question: What would happen if a freak solar event sterilized everyone in the Western Hemisphere? Without progeny, explains everyone's favorite National Greatness Conservative, we of the West would plunge into a "cataclysmic spiritual crisis," deem our lives to be "without meaning and purpose," and forgo any grand ambitions we might once have nurtured. Politics would become "insignificant," the very word justice would "lose meaning," and adults would live out the rest of their lives in a state of hedonic infantalization. Even if we opened our borders to the still-breeding East, no one would move to be a part of a "fading society." And if they did come, well, that'd be even worse-"everything would break down and society would be unrecognizable." The new immigrants "wouldn't be like current immigrants because they wouldn't be joining a common project, but displacing it."
Social anxiety over the "death of the West" is usually bad news for those of us with the capacity to create small Westerners; reproductive freedom and natalism do not sit well together. Brooks, who doesn't seem to notice that most transnational immigration is currently from high-fertility to "fading" low-fertility societies, is arguing that we will only work, save, and suffer for the benefit of "our own." Only those we view as our natural inheritors can imbue our lives with meaning.
You can buy this, or not. Brooks takes it to be so obvious as to require no defense. Without trying to predict what would happen if the West went sterile, I'll just say that Brooks' dystopian projection takes an unwarrantedly fixed view of national identity. In arguing that we'll only work for our own, he ignores how quickly the definition of "our own" can change-how rapidly the boundaries of inclusion can and do shift. Who counts as a member of an in-group changes over time, sometimes very quickly, which is why nations with relatively little genetic relatedness among their citizens-such as the U.S. and Singapore-are as stable as any ethnic enclave. Within a generation, national public schooling taught French children to replace their local identities with a national one; their parents might have been from any given province, but they were French. I don't know any Americans who refuse to accept the American-ness of Hawaiians or Alaskans, despite their relatively recent addition to the map.
Brooks has a thing for bold dichotomy-making, so he declares that immigrants must choose between "joining" or "displacing" a common project. No one actually believes the choice to be this stark; the common project itself is a moving target. Language and norms change in response to myriad factors, just one of them being the composition of the non-native population. And you have to have a fantastically static definition of "community" to believe that if Americans went collectively sterile tomorrow and 100 million fertile Chinese moved in, American adolescents would see no reason at all to go on living, working, and improving the world.
Photograph by Getty Images.
---