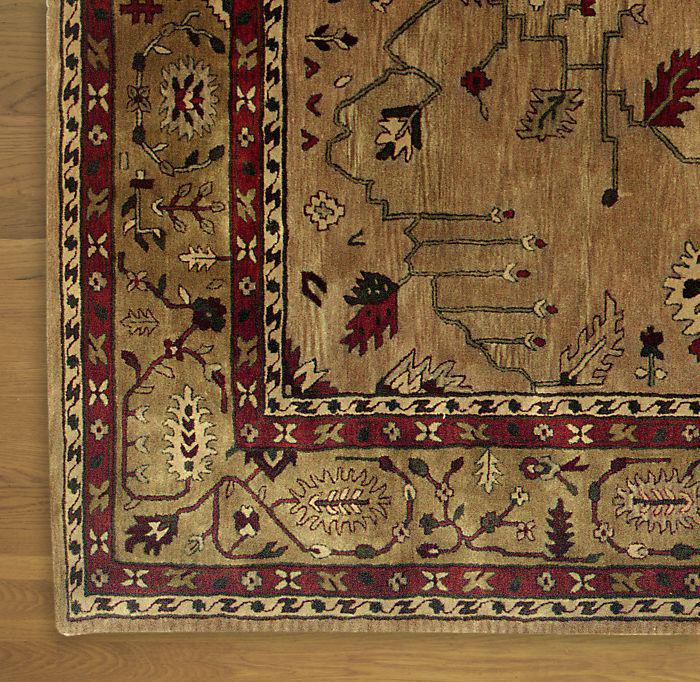 A kind reader recently hit on a topic I've been bouncing around in my noggin, contemporary oriental rugs:
Dear Nick,
Is it possible to DIY-distress an oriental rug ? I desperately want the look of an antique frayed old rug . I bought a new Turkestan eight years ago at of those import stores where you haggle, and I love the design but it still looks brand new, except for the wine stains! Can I run over it with the car or lawnmower or something without ruining it?
Thank you for considering this question,
Amanda
Great question and here's my answer: BY ALL MEANS, YES! Truth is I'm just not always a fan of brand-new Persian carpets, whether purchased at Istanbul's Grand Bazaar or Restoration Hardware . They hardly ever have the depth or warmth of old rugs, no matter how faithful the design is to traditional examples. But before I advise Amanda to go all Double Dare on her Turkestan, let's ask one important question:
How much did you originally pay at the Haggle Emporium? If it's in the thousands, you might want to look into re-selling the rug and try buying an antique or semi-antique carpet you like more. I'm told this is a very 'soft' market right now … I've seen 50 to 75-year-old rugs (Moroccans, Oushaks and the like) go for a couple hundred bucks at local auction houses. Check online catalogs first.
But if the Young Turk was a bargain, time to go cahrazee! Seriously, these rugs are made to withstand centuries of abuse and only look better for it. Break out that lawnmower, set of Wahl clippers , or Volvo and go to town. I certainly remember taking a razor to my Gap denim (circa 1994) in search of a Dylan McKay look, and rugs can be 'distressed' the same way. Plus it's therapeutic. Just do a little Google Image search first and pick a few threadbare carpets for inspiration … think even and natural. Ralph Lauren's Rugby Store on University Place (brilliant branding once again) has patchwork ancient oriental carpets running wall-to-wall, and that's another viable look … cut them apart and have a pro sew up the seams or simply duct tape from underneath. It's sturdier than you think! If faded's the desired look why not leave it out on the lawn for a good month? If the colors don't exactly jibe with your palette, shop for fabric dyes at JoAnn's or Michaels and practice spot-dyeing the pattern on a corner portion. Sounds hatefully tedious, but this is how the pros restore an antique carpet, and you can tweak your recent purchase to make it look like it came from Chatsworth and not the clearance aisle at Pottery Barn.
---