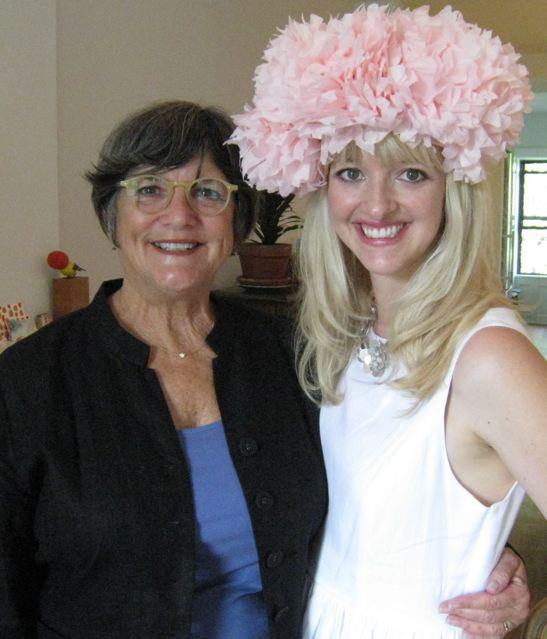 This is part two of Bridget's wedding countdown. Read part one .
If you feel like you don't talk to your mother enough, may I make a suggestion? Get engaged.
My sister and I have a close relationship with my mother. All of our therapists would agree with that. We are a close knit and for the most part, happy, family. I moved away from my native California as an 18-year-old to attend Northwestern University, and after I graduated I moved to New York, where my sister lived. So, I spent seven years a multi-hour plane flight away from my parents. As all young adults do, I "separated" from my parents, at least a little bit. Negotiating an adult child-parent relationship isn't always seamless. Choices were going to be made by all parties that were totally healthy and beneficial, even if not everyone agreed with them. I'm being circumspect, aren't I?
We didn't talk every day, more like a couple times a week either via e-mail or cell phone; I was busy persuing my young adult life, making decisions for myself and setting healthy boundaries. I love therapy. Even when I moved back to Los Angeles we didn't talk that much more, our conversations were great, just not daily. My parents had relocated to Newport Beach, so they were an hour away, there was no dropping in on anyone's part. We continued our perfectly reasonable level of communication. And then we started planning a wedding.
My mother and I went from talking three times a week to talking three times a day. At least. These days if I haven't heard from her by 2:00 p.m. I start to get itchy.
I would say the bulk of our conversations are logistics. Things along the lines of,
My Mom: We decided on the green runners right?
Me: The mint colored ones.
My Mom: I know we're talking about the same ones, but they aren't mint…they're more like, a light, creamy green.
Me: I'm calling that mint.
My Mom: well those, the green ones. Celadon. They're celadon.
Me: Oh, I guess you're right. Can fabric be celadon?
My Mom: Why not?
Me: Sure, ok, yes, those.
My Mom: I remember everything else. The ecru table cloth, right?
Me: Yes.
My Mom: The runners-we are talking about the same ones? They were covering that small table at the rental place, right?
Me: Yeah, we are.
My Mom: Maybe they're a light grass green.
Thrilling, I know. One of my big wedding surprises is caring about details I never would have thought would matter to me. Like the place settings. Granted, my mother and I settled on them pretty quickly (30 minutes-that's like an eyeblink in the wedding deliberation world) but still, we're still talking about them.
My mother and I are like lovestruck college freshman who can't stop texting and e-mailing each other.
Where's the man I'm marrying in all of this? In charge of the band. And the honeymoon. And being my life partner. We plan our lives together…except he does not have an opinion about anything related to the wedding. I said, "Do you want to wear a navy suit?" And he said, "Oh yeah, that sounds nice, I don't have one of those." I said, "Do you have any feelings about family style vs. a buffet?" He said, "No. Wait, what's the difference? Actually, no, whatever you think is good." It's like I'm asking him where we should go to dinner. My sister has great wedding thoughts, she found my wedding dress and the bridesmaids dresses (Vineyard Collection and J.Crew (on sale) respectively). My father has some opinions that are along the lines of, "Can't everyone just carry their chair downstairs for dinner?" But most of his input is vital to the health of the wedding.
My soon-to-be husband and I had always discussed hosting our own wedding. I'm being delicate and saying hosting instead of paying for. We didn't want to ask my parents, who paid for my teeth and education and my health insurance for way longer than just college, to throw us a big expensive party even if it is to celebrate our undying love and commitment to each other. But then…we realized a couple of things: my parents had long intended to host the event; and we didn't have any money for a wedding.
So, my parents are hosting the event. We are contributing; we are hosting the band and part of the photographer. We could have hosted a wedding if we were not having a party. If, as oppose to 125 guests we were having 12, then yes, the situation would be different. But this is what my fiance and our families wanted, a party with everyone we hold dear to our hearts.
Which means that my mom and I are communicating with a frequency that is reminiscent of the time when I only went to pre-school. Even when we lived in the same house I'm not sure we spoke this much. That's an exaggeration, of course we did. But it's an interesting change of pace. I stopped consulting my mother on every decision I made…a while ago (see the whole separating thing), and here I am again, sending e-mail after e-mail about hair half-up vs. all the way up vs. down.
And here's another surprise: it's been great. (No offense, Mom.) It's the perfect way to test all those adult feelings-not becoming an exasperated adolescent when my mother doesn't remember something we have already discussed, or suggests something that I don't like. I'm not a total ingrate, I'm saying that I seem to have happily aged out of those impulses. I am able to practice all those things I've tried to cultivate as a young independent person. My mother likes to remind me that her best friend and her best friend's daughter went into counseling during the planning of a wedding. It can put a lot of stress on mother-daughter relationships. Weddings-and again, not marriages, but weddings, seem to hit every nerve in mother-daughter relationship: hair styling, romantic choices, friends vs. family.
Actually, I take that back. Marriage hits some nerves too. While I was at my parents' house doing the "take- everything-out-of-the-garage-that's-yours-you-are-getting-married and-your-high-school-detritus-is-yours" clean-out, my mother and I had a spirited argument about the division of holidays after my marriage. We settled it nicely.
Read the next installment in Bridget's wedding countdown here .
Photograph of Bridget and Anne Moloney courtesy of the author.
---