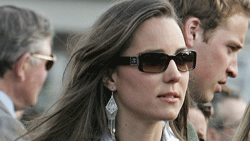 Is Kate Middleton Britain's Henry Louis Gates? That is to say: Is she a public figure whose personal upheaval has lately sparked a national conversation over deeply ingrained prejudices? That's the theory bubbling beneath this Washington Post piece parsing the recent uproar over Middleton's uncle , Gary Goldsmith, who was caught on tape prepping cocaine for consumption at the Ibizan villa he's dubbed La Maison de Bang-Bang. Media coverage has focused on Goldsmith's "two divorces, familiarity with prostitutes, and the hard-core porn he is said to enjoy on his 52-inch TV." (Not that the British press is given to tabloidization or anything.)
For non-Royal Watchers, the 27-year-old Middleton has been snogging Prince William under the watchful lenses of the paparazzi since 2001, when the pair met as students at St. Andrew's. And though her family made boatloads of money and she's made boatloads of best-dressed lists , both her wealth and refinement are too arriviste for some. Middleton herself has largely escaped personal opprobrium, but can't quite leave behind the origins spelled out in her Dickensian name: Her ex-flight attendant mother has become the target for aristocratic scorn, writes WaPo 's Mary Jordan:
The queen and Prince Charles have greeted Kate warmly, though in a much passed-along tale, Carole Middleton was talking to some royals and violated a taboo by using the word "toilet" instead of "lavatory." It was a gaffe heard around the kingdom, despite the fact that spokesmen for the royal family have denied any such exchange.

In perhaps the snidest remark, William's aristocratic friends reportedly would say "Doors to manual" when Kate arrived, a sneering reference to an instruction her mother may have heard from pilots in her former profession.
Jordan quotes a source who draws a comparison between America's preoccupation with Gates' media firestorm and Britain's with Middleton's, and writes that "Class in Britain is roughly equivalent to race in America-despite enormous strides toward equality, social standing simmers never far below the surface."
Maybe. We don't have the whole formal peerage thing here, nor, of course, do we dislike bootstrappers-or ever use the word lavatory. But wasn't social standing as well as race simmering just below the surface in l'affair Gates? And our fascination with class certainly boils over, all by itself, every time we turn on reality television, in a way that I'd argue race never quite does in pop culture. But I suppose the recent Obama-Palin presidential contest (sorry, McCain) remains the most instructive snapshot of current race/class prejudices in America. And while good old gender certainly rounded out the trinity during that election (as it does with Middleton, of course, and anyone else accused of angling to marry up), concern over class trumped concern over race when it came to picking who would wear our crown.
Photograph of Kate Middleton by Carl de Souza/AFP/Getty Images.
---