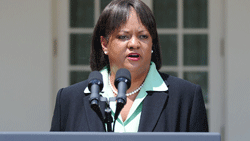 If her past is any indication, newly selected surgeon general Dr. Regina Benjamin will bring dramatic firsthand experience with the uninsured to the evolving health care debate in Washington. Benjamin has been defined by her dedication to the small clinic she runs in Bayou La Batre, Ala., a battered seaside community of poor whites and Vietnamese and Laotian immigrants for whom reliable health care-let alone health insurance-is an unjustifiable luxury. Benjamin says she returned to work in Alabama because doing so was required by the National Health Service Corps , the federal program that funded her medical education and that aims to bring doctors to underserved communities. But she needn't have committed to a place as destitute and hurting as Bayou La Batre, where hauling nets full of shrimp and mackerel onto boat decks have made back injuries and fractures the norm, and where a significant number of residents don't speak English.
To say that Bayou La Batre is poor would be an understatement. According to the 2000 census, the per capita income in this town of 2,500 was $9,928, less than half the national average. When I visited Bayou La Batre some months after Hurricane Katrina, Benjamin's clinic, which had been destroyed in the storm, had recently burned . (She subsequently rebuilt it with donations and public funds.) At the local elementary school, which was 91 percent poor, one fourth-grade girl mentioned offhandedly that her family hadn't had Christmas in three years.
Along the town's main drag, I met Frank Morse, a longtime shad-runner, shrimp worker, and fisherman who had recently started his own barbecue joint. Counting his son and grandson, Morse could trace his family back six generations in Bayou La Batre. "Mostly, it's a town of poor people, generational fishermen, their father done it and their grandfather," Morse told me. "They're poor and they don't hold their money well." He was 42, and had been fishing professionally since he was 15. "You got to pull lines 'til you wince when you gotta pick the shrimp up. Then you got to dump the net on the deck and bend over like this and it kinda gets you here," he said, tapping the small of his back. He was going in for shoulder surgery on bone spurs soon, he said, and was lucky that his wife worked at a local hospital, because fishing was one of those jobs that didn't come with health insurance.
In the Rose Garden today, Benjamin sidestepped the contentious aspects of the debate over healthcare reform, acknowledging simply that "our health care system simply cannot continue on the path that we're on." But in her online biography at the National Institutes of Health, she notes: "Career-wise I still have a lot to do. We still have a lot of problems with our health care system, the high number of uninsured and underinsured, the need for improved access to healthcare services …" Here's hoping that Benjamin's experience in Bayou La Batre will help ground the debate going forward, and that she can be a powerful voice for the many among us who are forced to put off health care until it's astronomically expensive, or to forego it altogether.
Photograph of Regina Benjamin by Tim Sloan/AFP/Getty Images.
---