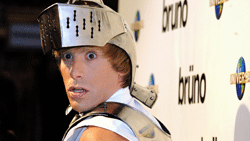 From my many years of writing about evangelicals, I often get e-mails from conservative Christian sites. One I got yesterday labeled: "WARNING: Protect Your Children" caught my eye. Bands of child molesters? Gay teachers? More abortions? No, worse. Sacha Baron Cohen. The e-mail is a classic in the genre of scold while titillate:
"BRÜNO is the most vile, perverse movie ever made by a mainstream movie studio," the e-mail from the Christian review site Movieguide begins.
This disgusting, abhorrent movie contains (among other things) extremely graphic scenes of heterosexual and homosexual sex acts, explicit scenes and extended close-ups of full male and full female nudity, an extended scene of a totally nude heterosexual woman repeatedly whipping a homosexual man in his bikini briefs, partial nude scenes (including full rear male nudity) where body parts are partially covered up with black bars placed in strategic places, obscenely graphic verbal descriptions of perverse sex acts in dialogue and conversations with real people, and images of a male black baby from Africa in a hot tub with white adults who are clearly interested in doing some kind of sex acts with one another.

This movie is going out to thousands of theaters in neighborhoods like yours. Many of these theaters are located in shopping malls and movie multiplexes where children of all ages congregate, with and without parents or adult guardians.

Time is short, so we have to act now!
Photograph of Sacha Baron Cohen as Bruno by Torsten Blackwood/AFP/Getty Images.
---