One of the things I enjoy most about blogging for RealSimple.com is all the great people I've met—both the folks who work at RealSimple.com and the other bloggers who write for Simply Stated .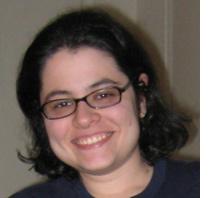 At a lunch at Real Simple , I was very excited to get to meet Tamar Weinberg, an expert in social media and viral marketing who is a ubiquitous online figure. As always, when I meet someone whom I know from blogland, it was a bit of a shock to see her in person. There she was, a real live human being! And she looked so much like her photo! Plus she was pregnant, which was such a real-life thing to do.
Tamar has a book that is just hitting the shelves, The New Community Rules: Marketing on the Social Web
. It's an outstanding resource for anyone who wants to make sense of the potential of the "social Web"—blogs, Twitter, LinkedIn, Digg, Flickr, Facebook, etc. These worlds are changing so fast; it's hard to keep up, even when you're very engaged.
I was interested to see what Tamar had to say about happiness: how would an intense workaholic handle having a new baby, and not only that, having that baby just two months before her first book is coming out? A challenging situation.
Gretchen: What's a simple activity that consistently makes you happier?
Tamar: I can't say there's anything specific that makes me happier. I just gave birth to a baby boy 8 weeks ago—he's my first—and I'm totally enjoying being with him and bonding with him. But besides just being with my baby, I love the work I do in the social-media-marketing and community-management realm. I've had these late-night revelations that keep me up all night writing my thoughts down on paper and getting totally excited to kick-start my day.
What's something you know now about happiness that you didn't know when you were 18 years old?
Even if something really gets you down, you can pull through it and be stronger than ever.
Is there anything you find yourself doing repeatedly that gets in the way of your happiness?
I find myself believing that I could do more than what's allowable and physically doable in a 24-hour period. I wish that days were 50 hours long.
Is there a happiness mantra or motto that you find very helpful? Or a particular book that has stayed with you?
Not in particular. But I'm reading blogs every day and always find inspiration in others' words.
If you're feeling blue, how do you give yourself a happiness boost? Or, like a "comfort food," do you have a comfort activity? (Mine is reading children's books.)
Usually loud, angry music works for me. (Nope, happy music won't do!) I haven't felt blue since my son was born, but I imagine that he'll be able to pull me out of it.
Is there anything that you see people around you doing or saying that adds a lot to their happiness or detracts a lot from their happiness?
I think family adds to happiness and detracts from happiness. (I mean that in the utmost serious but jovial way!)
Have you always felt about the same level of happiness, or have you been through a period when you felt exceptionally happy or unhappy—if so, why? If you were unhappy, how did you become happier?
Being around people I care about always makes me happy. I also don't mind a change of scenery. In the business front, it's always been great to attend conferences where I can network with new people and spend time with old colleagues.
Do you work on being happier? If so, how?
I really should. As with everything, there's room for improvement. And having a new 24/7 role isn't entirely stress-free!
Have you ever been surprised that something you expected would make you very happy, didn't—or vice versa?
Honestly, I approached parenthood with incredible fear and anxiety. I am now so happy to be a mother.
* A new happiness-project group is launching in the Chicago area! If you live around there and are interested in joining, click here for more information. (I love the photo chosen to illustrate their intro page.)
* If you want to work on your happiness project by yourself (instead of, or in addition to, being part of a group), check out the Happiness Project Toolbox . Tons of fun, if I say so myself.
---