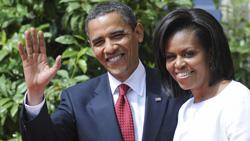 I dunno, Dahlia, why wouldn't American women want Michelle Obama's life? Sure, it's more superego than ego at the moment, and yes she has subordinated her professional ambitions to her husband's. But she has plenty of power, she gets to talk policy as well as fluff, and she can dine out on these White House moments for all the rest of her life. I mean, how much do you really chafe at being in the helpmeet role when your husband is the president, and you helped make him (see soaring Michelle approval ratings)? It's like complaining about being co-pilot on the spaceship to Mars. This is a once-in-a-lifetime team journey if ever there was one.
And when the Obamas are sprung from the cage of the White House-because over the next four years or eight, it will surely come to feel like the bars are tightening around both of them-Michelle Obama seems bound to chart her own professional course again. She'll have another chance to model for the rest of us, by showing us how to move purposefully from one phase of life to the next and make different choices, with different emphases on self v. family, at different times. (In contrast to my own motto: Try to do too much. None of it well.) What I admire about Michelle's marriage , Jess, is that I really think her husband will want her to take the lead next, and will be ready to move to a new city for her as she has moved to D.C. for him. The Clintons come to mind here, but they're like the too-large-for-life version of what I'm thinking of: The wife runs for president to satisfy her own ambition; the former president husband joins her campaign-and sabotages her. The post White House Obamas promise to be more low-key. More chill. No movie stars, but I'll take that fantasy.
Photograph of Michelle and Barack Obama by Stephane De Sakutin/AFP/Getty Images.
---