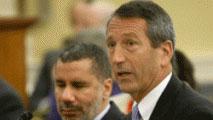 In the moments before his press conference , Double X ers offer ideas of where Mark Sanford's been.
"Possibilities: mistress; prostitute; male prostitute; something to do with R. Allen Stanford; some heroic rescue mission …"
"Clearly he is a Nazi."
"At first I was thinking hookers. Now I'm thinking bipolar."
"It's part of a concerted effort led by Michael Steele to make Sarah Palin the least crazy-seeming candidate for 2012."
"Dude, it's tango lessons. Or he really likes steaks."
"Drug mule?"
Photograph of Mark Sanford by Alex Wong/Getty Images.
---