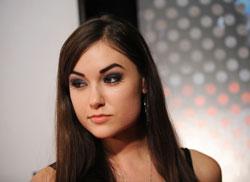 So I finally saw Steven Soderbergh's The Girlfriend Experience this weekend. Set in late 2008, as the gilded age gives way to financial collapse, it is story of an escort (played by porn star Sasha Grey ) trying to take her business to the next level, and finding, instead, that she is not as in control of her life as she thinks. The film is shot in high-def video; this, in addition to Grey's affectless performance has the effect of making everything seem distanced. One presumes this is Soderbergh's point: The Girlfriend Experience is a film about the deeply transactional nature of our lives, about how commodified even intimacy has become in the 21st Century.

This critique is complicated by Soderbergh's use of Sasha Grey-and Grey's own choice to make the film. Some critics have lambasted her acting for its lack of versatility. But the little fillip of "authenticity" adds another level of canniness to the movie-even as, ironically, it also reads like a cynical marketing ploy-a clever way of capitalizing on the audience's curiosity about the "reigning princess" of adult films, as Grey has been called. Because Grey isn't just any porn star. She is a hard-core porn actress known for her willingness to do extreme scenes. She sees her extremity as helping to liberate female sexuality, and she told Rolling Stone early this year that she is a "pervert." She takes an intellectual approach to her work. She often talks about the fact that as she began to explore her sexuality with her boyfriend, trying out S&M, she made a rule: Anything he did to her she got to do to him. Transactional equality, if you will. Her MySpace page says she likes Yeats, Baudrillard, and Nietzsche. Early on in her porn career, she wrote a mission statement: "Most of the XXX I see is boring, and does not arouse me physically or visually. I am determined and ready to be a commodity that fulfills everyone's fantasies." Making a Soderbergh film that intellectualizes questions of transaction is just the natural next step in Grey's extremely thought-through career.

Paradoxically, of course, the Soderbergh film ultimately depicts its confident escort star getting her come-uppance. By the end, it turns out she's not so in control after all. (This might seem to contradict Grey's message, but presumably that doesn't bother her much, given the quote she brandishes at the top of her MySpace page : "Be just, and if you can't be just, be arbirtrary.") Grey interests me, because she is trying to challenge old paradigms, but at the same time, her persona is clearly a clever marketing tactic. I wonder what my fellow XXFactor writers (and readers) thought of the film and of Grey. Can Sasha Grey really liberate herself-and other women-through porn? (You can reach me at morourkexx@gmail.com.)
Photograph of Sasha Grey by Bryan Bedder/Getty Images for Tribeca Film Festival.  
---