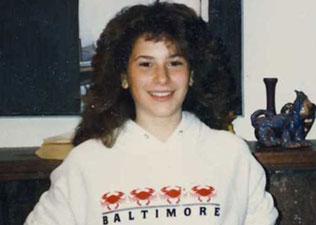 Lizzie Skurnik's new book on classic teen novels from our past,
" target="_blank"> Shelf Discovery comes out next month. What better woman to weigh in on the intersection of twin adolescent rites of passage: the bat mitzvah and the Farrah 'do. This also is a reminder: Please send us your Farrah haircut pictures to doublex.slate+farrah@gmail.com . Here's Lizzie's description of the lovely photo you see included in this post:
My mother brought me to a black salon RIGHT before my Bat Mitzvah (like the day), [where the hairdresser] gave me what I can only describe as a church haircut instead of just straightening it. That took months to grow out. Then my aunt, who delighted in making a begrudging white salon cut my grandmother's hair, brought me to THAT salon and they gave me this Farrah cut, which at the time was only still sported by matrons in N.J. Hairstyles pressed unsuccessfully on biracial hair may be an unexamined outpost in the land of cultural contructivism.
---