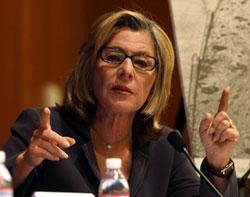 We've debated whether to hug or not to hug in professional settings, but what's the proper protocol when it comes to titles? At a hearing on Tuesday, California Sen. Barbara Boxer told Brig. Gen. Michael Walsh, division leader of the Army Corps of Engineers, "Could you say ' senator' instead of 'ma'am? It's just a thing. I worked so hard to get that title. I'd appreciate it." The General, with all the quickness of an Army lifer, responded "Yes, Senator."
The hearing was apparently a little heated (Boxer was questioning Walsh about still unrepaired levees in New Orleans), so her comment has been interpreted as a bit of an etiquette smack down. Certainly, it's quick-thinking, tart way to remind someone to start treating you more respectfully, stat. (As for why calling someone "ma'am" over and over might feel a little disrespectful, I'm reminded of a scene from A Few Good Men , when lawyer Tom Cruise asks his client to stop calling him "sir": Cruise: Is this your signature? Client: Yes sir. Cruise: You don't have to call me sir. Is this your signature? Client: Sir, yes sir. Crusie: And you certainly don't have to do it twice in one sentence.") And then there really is something about ma'am that's just so … lackluster. Is that because it's the same word telemarketers use? Or what you'd say to while helping an old lady out with her groceries? Does "sir" carry the same freight?
Photograph of Senator Boxer by Justin Sullivan/Getty Images.
---