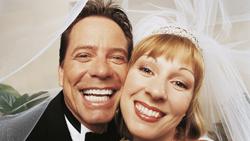 Lera Loeb, fashion blogger and self-described "mail-order bride," takes to the pages of Glamour to defend her relationship. Given the power a citizen can wield over a foreigner desperate for a green card, we're all familiar with stories of this kind that end badly. But Loeb's marriage is happy, and hers is a story about stigma; encounters with women who ask "Are you allowed to go out alone?" and "Do you have a curfew?" On a deeper level, it's a story about how marriages motivated by economic need-that is, most marriages in the history of mankind-become taboo when the meaning of marriage shifts to shared interests rather than shared production, love rather than poverty. The old model is somehow threatening, much as new forms of marriage are thought to devalue the institution.
There is an incredible scene in this paper (PDF) on immigrant brides by sociologist Pei-Chia Lan, in which a Taiwanese immigration officer sarcastically interrogates a Vietnamese woman coming into the country with her handicapped Taiwanese husband. "Do you actually love him, or are you just doing this for economic reasons?" the official taunts. "You only met him for two days [before getting engaged]! How romantic!" The official was in a position to decide whether this marriage was valid in the eyes of the state, and economic motivations were taken to be somehow faulty, even criminal. As Lan puts it, "The officer applied polarized dichotomies to characterize the intentions of marriage migrants-voluntary moves versus trafficking, marrying for love versus marrying for money, authentic romance versus bogus union … These presumptive values devalue traditional marriages as an institutional arrangement of extended families for economic or political exchanges."
Loeb defies the dichotomies Lan lays out; she says she loves her husband, and she married him to get the hell out of the Ukraine. Can we accept that she is better off with the freedom to marry for the right of residency, and hope for love later?
---